NEHAWU Mourns The Passing of SACP Central Committee Member Comrade Chris Che Matlhako
Thursday April 20, 2023
The National Education, Health and Allied Workers' Union [NEHAWU] has learnt with shock and sadness of the untimely passing of South African Communist Party [SACP] Former 2nd Deputy General Secretary and Central Committee Member, Comrade Chris Matlhako.
The national union sends heartfelt condolences to his family, SACP, friends and comrades in the Mass Democratic Movement (MDM) structures. We wish his family strength during this moment.
Comrade Matlhako will forever be remembered for his commitment, devotion and dedication to the socialist cause and the peoples of the world. His contribution to the working class struggle will forever be etched in our hearts.
Comrade Matlhako was an internationalist who ascribed to the values of a just peaceful world and advocated for international solidarity with the oppressed people of the world.
In his honour, the national union will intensify its international solidarity campaigns for the creation of a just world. His beloved SACP, the vanguard party, must continue with its program of building a powerful socialist movement of the workers and the poor for the attainment of socialism.
NEHAWU dips its banners of the passing of Comrade Chris Matlhako
Rest in Peace Comrade Chris Che Matlhako
END
---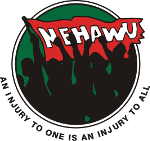 Issued by NEHAWU Secretariat Office
Zola Saphetha (General Secretary) at 082 558 5968;
December Mavuso (Deputy General Secretary) at 082 558 5969;
Lwazi Nkolonzi (NEHAWU National Spokesperson) at 081 558 2335 or email: lwazin@nehawu.org.za
Visit https://www.nehawu.org.za