NEHAWU KZN Statement On The Food Nutrition Programme
Tuesday April 25, 2023
The National Education, Health and Allied Workers' Union [NEHAWU] in KwaZulu-Natal welcomes the investigation by the Department of Basic Education on the disappointingly dismal implementation of the KZN School Nutrition Programme.
The investigation will look into the discontinuation of the decentralised procurement method and the preferred monopolization method, which is central to the shamble that the department faces today. This short-sightedness and poor governance, amidst the prevailing worsening living conditions of our people, has now further resulted additional deprivation of thousands of children.
In line with our Public Service Delivery Campaign, which seeks to achieve improved quality service to our people in order to better their lives as well as contributing to the building of a capable and developmental state that intervenes to societal needs, we are going to be monitoring this investigation very closely to ensure that those whom are responsible for this fumble are held to account.
As NEHAWU, we call on the SIU to speed up its investigation into this debacle which smells of corruption and appeal to the National Department of Basic Education for utmost urgency in addressing this matter and to ensure that this programme runs smoothly with food reaching every learner.
END
---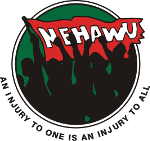 Issued by NEHAWU KwaZulu-Natal Secretariat Office
Ayanda Zulu (Provincial Secretary) at 081 758 5199 or email: Ayandaz@nehawu.org.za or
Ntokozo Nxumalo (Provincial Deputy Secretary) at 0815255983 or email: Ntokozo@Nehawu.org.za Visit https://www.nehawu.org.za