Contents
REVEALED: King's Advisor persuaded abandoned secret meeting with Magawugawu, offers to provide him with security
---
REVEALED: 26 January 2022 By Zweli Martin Dlamini MBABANE: Paul Dlamini, the Chairman of the King's Advisory Council allegedly persuaded an abandoned secret meeting with SWALIMO President Mduduzi 'Magawugawu' Simelane whose purpose was to discuss and find solutions in resolving the ongoing political unrest.
This is contained in leaked cellphone conversations between the King's Advisor and our source who cannot be named for ethical reasons.
It has been disclosed through the electronic evidence that it was the President of the Swaziland Liberation Movement(SWALIMO) who proposed the meeting, however, Simelane who was wanted by the police on alleged politically motivated criminal charges, subsequently changed his mind and decided not to meet the King's Advisor citing security risks.
"Mine nje kwake kwashaya Magawugawu watsi ucela kungibona ngatsi kota-kota, kwaphindze kwajika yena watsi, "sengesabela imphilo yami. Ngatsi mine NO, nginawo emandla mine, ngitaku-provider nge-security. Ngikutsatse ngiphindze ngikubuyisele lena lapho usuke khona, kute lotakuhlupha, wase uyala.(meaning: I was once called by Magawugawu who asked to meet me but later changed his mind citing security risks. I tried to persuade him to come, even offering to provide him with security but he declined", said the King's Advisor in the electronic evidence.
Reached for comments, the King's Advisor who was once appointed as Deputy Prime Minister asked not to comment on the leaked recording.
When this publication reached Mduduzi Magawugawu Simelane, the SWALIMO President confirmed that indeed, he did proposed a meeting with the King's Advisor but later decided not to meet him for security reasons.
"Im one person who believes that if you want true peace then you must learn to talk to your enemy. I wanted to engage him deeply because he knows the truth better but I had to abort this meeting due to security. I could not trust his promises of security ", said the SWALIMO President.
Eswatini is in the midst of a political crisis after King Mswati allegedly unleashed soldiers and the police to shoot and kill dozens of civilians merely for demanding democratic reforms.
The Human Rights Commission released a preliminary report suggesting that forty-six(46) people were killed.
But political parties and the civil society alleged that they had evidence suggesting that over one hundred(100) people were killed with over seventy(70) already identified.
http://www.swazilandnews.co.za/fundza.php?nguyiphi=1998
---
Mozambique: At Least 46 Dead After Tropical Storm Ana Hits Madagascar, Mozambique and Malawi
26 January 2022
Tropical storm Ana hit east Africa this week, as heavy rains have caused flooding and mudslides in Madagascar's capital Antananarivo, killing at least 39 people. Ana also made landfall on Mozambique and continued into Malawi, killing 12 people in its path, with reported windspeeds up to 100km per hour.
Madagascar's disaster agency has reported that nearly 65,000 people have been left homeless in the wake of Storm Ana, with low-lying areas remaining on high alert.
John Razafimandimby, rescue unit director with Madagascar's disaster management agency told the media: "We are in the process of evacuating people from flooded areas".
Mozambique has already reported a large portion of the damage, as its National Institute for Management and Disaster Risk Reduction said on Tuesday that 54 people had been injured and 895 evacuated in the previous 24 hours.
Aid crews are still assessing the situation in both countries as boats and drones have been dispatched in the relief effort.
According to the umbrella group of aid workers trying to coordinate supplies; clean drinking water, mosquito nets, and masks are needed to prevent disease outbreaks.
The wind and rain have caused power outages in both countries, and infrastructure such as school, health centres, and a bridge in Mozambique's Tete province collapsed due to floods.
More than 20,000 people in Mozambique have been affected by the storm, with more than 3,000 homes partially destroyed.
Malawi's Mulanje hit
Meanwhile the storm's westward trajectory has killed at last three, including one person in Mulanje, according to Malawi disaster officials.
The power cuts there occurred due to flood water damaging electricity installations.
Both Malawi and Mozambique have been hit by storms with greater strength and frequency in recent years as ocean waters warm due to climate change, contributing to rising sea levels.
Mozambique's National Institute of Meteorology forecasts an additional four to six cyclones in the region by the end of the major rainy season in late March.
Meanwhile the institute has downgraded tropical storm Ana to a tropical depression system, but fears about displacement due to flooding remain.
https://www.rfi.fr/en/africa/20220126-at-least-46-dead-after-tropical-storm-ana-hits-madagascar-mozambique-and-malawi
---
25 January 2022
Who is Paul-Henri Sandaogo Damiba, leader of Burkina Faso's military takeover?
After a chaotic weekend of protests and a mutiny, soldiers in Burkina Faso announced on Monday evening they had taken over the country and arrested the President Roch Marc Christian Kabore. The operation was carried out under the orders of lieutenant colonel Paul-Henri Sandaogo Damiba, previously in charge of anti-terror operations in the east of the country.
The army statement read out on RTB national television on Monday, was issued in the name of a group previously unheard of, notably the Patriotic Movement for Safeguard and Restoration, or MPSR.
According to the statement, written by MPSR president Paul-Henri Sandaogo Damiba, Kaboré has failed to unite the nation and to deal effectively with the security crisis which "threatens the very foundations of our nation".
He said his movement would re-establish "constitutional order" within a "reasonable time".
Hundreds gathered in the streets to show support for the military following the announcement.
Behind the uprising is frustration at the government's inability to handle rising jihad violence over the past few years and the lack of resources.
This has also translated into regular street protests in recent months, often suppressed by security forces.
At the weekend, mutinying soldiers made several demands, including: the removal of the army's chief of staff and the head of the intelligence service, more troops to be deployed to the front line; and better conditions for the wounded and soldiers' families. Anti-terror operations
According to French sources, Damiba is listed as having graduated from a Paris military school in 2017. He also completed studies in criminal science at the Arts et Métiers school (CNAM) and received a certificate in management, command and strategy.
In June 2021, Damiba published an essay on terrorism entitled Armées ouest-africaines et terrorisme : Réponses incertaines ?.
On the 3 December, Damiba was tasked with heading up anti-terrorism operations in the zone in the east of the country as well as in the capital, Ouagadougou.
The post was created by President Kaboré, who ordered a reshuffle in the wake of the attack in Inata in November, where 57 people were killed, including 53 gendarmes.
Prior to that, it is understood that Damiba was involved in several anti-terror operations between 2015-2019 in the northern Sahel region.
Damiba is also a former member of the Regiment of Presidential Security (RSP) – a controversial autonomous military unit formed under President Blaise Compaoré, who helped soldiers to stage a coup d'état in 2015.
However, Damiba said he refused a request by general Djibril Bassolé to join the uprising in Ougadougou.
According to several sources, Damiba spent time during his military training in the presence of Colonel Zoungrana, who was arrested two weeks ago on suspicion of preparing a coup.
Future of Sahel operations
Burkina Faso is now the third West African country to witness a military takeover in recent years. Guinea and Mali have had sanctions imposed on them by Ecowas to press them to return to constitutional order.
Questions have been raised as to how this latest chapter of unrest will affect the management of France's Barkhane operation in the Sahel.
Out of the four countries involved in the G5 project, Niger is the only one left with an elected president.
The instability in Burkina Faso has "added to the difficulties of maintaining Barkhane, which is becoming politically more difficult to support. With these coups, and bad governance, nothing new can be built," says Elie Tenenbaum, director at the Centre for Security Studies and International Relations (IFRI).
After nine years of anti-terror operations, France has already begun scaling back its military presence in the region, from 5,000 soldiers last year to a projected 2,500-3,000 by 2023, with an increased participation by European partners and training local troops.
At present, Burkina Faso hosts French special forces as part of the Sabre operation; in charge of tracking down jihadist leaders in the region. Four of its members were wounded in a mine explosion on Tuesday last week.
It remains to be seen if the coup leaders will maintain the partnership with French authorities.
https://www.rfi.fr/en/africa/20220125-who-is-paul-henri-sandaogo-damiba-leader-of-burkina-faso-s-military-takeover
---
Coup in Burkina Faso Bodes Ill for Stability in West Africa
25 January 2022
Putschists in West Africa should not interpret initial popular support for coups as an indication that citizens no longer desire responsive, accountable governance.
Uncertainty continues to surround the whereabouts of President Roch Kaboré after the Burkinabe leader was deposed in a coup over the weekend. A former prime minister and one-time president of the National Assembly, Kaboré had been in power since 2015, the second civilian to hold the country's highest office following the collapse of Blaise Compaore's twenty-seven-year dictatorship and his flight into exile in October 2014. But now, even as the overall situation in the country remains fluid, it seems safe to say that the military is back in the saddle in Burkina Faso. The Patriotic Movement for Safeguard and Restoration (MPSR)-led takeover makes the poor West African country the fourth in the region to fall under the military's jackboots in less than two years. Mali reopened the floodgates in August 2020 (again in May 2021), with Chad and Guinea following suit in April and September 2021, respectively.
The takeover in Burkina Faso comes days after the authorities had banned anti-government protests called by the civil society group Mouvement Sauvons le Burkina Faso (Save Burkina Faso). Following a familiar playbook, Kaboré had put mobile internet in the cooler for a week after similar unapproved demonstrations in November 2021 had turned violent. The proximate cause of both protests—and the military's pretext for stepping in—was public anger at government failure to rein in attacks by armed groups linked to al-Qaeda and the self-proclaimed Islamic State (IS). Since 2015, both groups have killed an estimated 2,000 people, with another 1.4 million displaced from their homes.
Both the Economic Community of West African States (ECOWAS) and the African Union (AU) have condemned what they have insisted is an "attempted coup" and reminded the Burkinabe military of its constitutional role of defending and upholding the constitution. While there is little indication that either has the appetite to commit to the use of force to upstage the new junta, the appearance of popular support for the military adds to the complications. For its part, the MPSR will note that both ECOWAS and AU similarly condemned the coups d'état in Mali, Chad, and Guinea, but took no action afterwards.
The swift reaction by ECOWAS and AU seems partly dictated by fear that the takeover contagion might spread to their member states' respective militaries. For one thing, a good number of them continue to face devastating attacks from Islamist and related extremist groups, including al-Shabab (Somalia and Kenya) and Boko Haram and the Islamic State in West Africa (ISWA), active in Nigeria, Niger, Chad, and Cameroon. For another, they all face growing popular disaffection arising from their failure to extirpate the attacks. In Nigeria, youths fed up with pervasive insecurity in the country's northern region took to the streets of the capital Abuja in December, protesting government inaction under the banners #NorthisBleeding and #SecureNorth.
Attacks from Islamist insurgencies notwithstanding, many West African countries remain politically weak and susceptible to sporadic lawlessness—incentives for military intervention. In any event, their respective militaries have legitimate corporate grounds for disgruntlement. From time to time, soldiers in various countries have mutinied over unpaid salaries and bonuses. Across board, corruption and lack of investment in equipment and training is a perennial problem. In Nigeria, the military's failure thus far to dislodge Boko Haram appears to owe more to internal decay than the actual capacity of the insurgents. ECOWAS leaders seem to realize that their own domestic situations make them vulnerable.
Nonetheless, one should not read too much into apparent popular support for the military takeover in Burkina Faso, which, just as in Mali, Chad, and Guinea, is less about support for the military and more about lack of confidence in the political elite. What seems like affection for the soldiers is in fact a desire for stability and good governance. Far from a rejection of democracy, young people and social movements in Burkina Faso want the rule of law, regular elections, political freedoms, safe neighborhoods, and economic prosperity.
The Burkinabe junta ignores this at its own peril.
https://www.cfr.org/blog/coup-burkina-faso-bodes-ill-stability-west-africa
Palestinian prisoner, 63, dies in Israel prison
27 January 2022

Sixty-three-year-old Palestinian prisoner, Jameel Al-Tamimi was found dead inside his cell yesterday morning in an Israeli jail, a statement by Israeli Prison Services said.

According to the statement, an Israeli guard found Al-Tamimi unconscious in his cell in the Nitzan Prison.

"The guard called a paramedic and a doctor who began resuscitation operations, and called an ambulance. The prisoner's death was declared at the scene," the statement said.

Andul Naser Ferwaneh, head of studies and documentation at the PLO's Prisoners and Freed Prisoners Commission, announced the death of the prisoner.

However, the PLO's Commission said that Al-Tamimi was in prison over a civil issue, placing responsibility for his death on the Israeli occupation.

There are around 4,650 Palestinian detainees in Israeli prisons, with about 550 suffering from chronic medical conditions such as cancer and kidney and heart problems, according to the Palestinian Prisoners' Society (PPS).

The PPS also said that "the number of prisoners martyred in the prisons of the occupation has risen to 228 martyrs since 1967, including 72 prisoners who died as a result of the crime of medical negligence."

https://www.middleeastmonitor.com/20220127-palestinian-prisoner-63-dies-in-israel-prison/
---
Latest Ukraine updates: US formally responds to Russia's demands
26 January 2022
Russia-Ukraine tensions news from January 26: Biden administration rejects Russian demand to halt NATO's expansion.
United States Secretary of State Antony Blinken said Washington has set out a "serious diplomatic path" for Moscow to resolve the tensions over Ukraine in a letter to the Russian government.
But he said that the letter made no concessions to Russia's main demands, such as guarantees that Ukraine will never be admitted to NATO.
"We made clear that there are core principles that we are committed to uphold and defend, including Ukraine's sovereignty and territorial integrity and the right of states to choose their own security arrangements and alliances," Blinken said.
Meanwhile, Ukraine's foreign minister has said Moscow's buildup of troops near its border is "insufficient for a full-scale offensive", a day after the embattled country's president called for calm over the crisis.
Washington and its allies warn the Kremlin may be readying an imminent incursion, but Moscow has repeatedly stated it has no plans to attack its neighbour.
Two prominent anti-war US lawmakers have expressed concerns over the possible "significant" deployment of American troops, while voicing support for President Joe Biden's efforts to resolve the crisis with Russia diplomatically.
Democratic congresswomen Pramila Jayapal and Barbara Lee also called on their colleagues to allow Biden to find a peaceful solution to the impasse, in an apparent message to lawmakers pressuring the president to be more hawkish.
"We continue to watch Russia's threatening behavior towards Ukraine with alarm," Lee and Jayapal said in a joint statement.
"There is no military solution out of this crisis – diplomacy needs to be the focus. We support the Biden Administration's efforts to extend and deepen the dialogue, allowing for robust negotiations and compromise." https://www.aljazeera.com/news/2022/1/26/russian-ukrainian-advisers-to-meet-over-tensions-liveblog
---
U.S. Response Is Given to Russia's Offer on Security Affairs
26 January 2022
Washington and NATO respond to Russia's proposals regarding its national security.
On Wednesday, the Russian Foreign Minister, Sergey Lavrov, confirmed that American officials had offered a response regarding collective security in Europe.
John Sullivan, U.S. ambassador, delivered a response from Washington and NATO on Russian security proposals.
Eight points constituted Moscow's request. Among them, stopping NATO's military expansion in Eastern Europe and a block on Ukraine and Georgia from becoming members of the bloc were points marked on the Russian draft bilateral treaty.
The removal of nuclear stockpiles and offensive weapons along the borders of Russia is a demand Moscow insists on legally guaranteeing.
According to reports, Russia has been asked not to make the response public. Lavrov has announced to the Russian parliament that the essentials of their reaction will be communicated to the Russian people.
Now that an American reply has been received, Lavrov expressed that the following steps concerning Russia's security will be studied.
Russian Foreign Ministry will work with other departments to submit to President Vladimir Putin a proposal in the following steps.
https://www.telesurenglish.net/news/U.S.-Response-Is-Given-to-Russias-Offer-on-Security-Affairs-20220126-0014.html
---
Venezuela Sets Commission to Expose the Truth of Colonialism
26 January 2022 President Maduro insisted that justice can only be achieved through adequate historical research and "a great effort of education." On Tuesday, Venezuela's President Nicolas Maduro swore in 20 members of a commission for the clarification of historical truth regarding colonialism and its consequences. "It is a commission to delve into the truth of European colonialism and its crimes and genocide. It will show the looting that took place in Latin America and will demand justice and reparation from Spain, Portugal and other Europe countries," he said. This historical commission was proposed on Oct. 12, 2021, when Venezuela celebrated the "Indigenous Resistance" Day. On that occasion, Maduro sent a letter to the King of Spain asking him to apologize to the peoples of the America for the crimes and genocide committed by the Spanish. The Bolivarian president also insisted that justice can only be achieved through adequate historical research and "a great effort of education." The historical commission is chaired by Venezuela's Culture Minister Ernesto Villegas and includes historian Pedro Calzadilla, rector of the National Electoral Council (CNE); Roside Gonzalez, the minister of Indigenous Peoples; lawmakers Noeli Pocaterra, Aloha Nuñez and Alexis Rodriguez Cabello;Alexander Torres, president of the National History Center, and Reinaldo Bolivar, president of the Center for African Knowledge. The Historical Commission is also made up of Luis Pellicer, vice-rector of the Experimental University of the Arts; Jorge Berroeta, director of the General Archive of the Nation; Jesus Garcia, member of the Afro-Venezuelan Network; writers Luis Brito and Gustavo Pereira, and the historians Iraida Vargas, Mario Sanoja, Juan Romero, Carmen Bohorquez, Marcial Ramos, Vladimir Acosta, Casimira Monasterio, and Dulce Marrufo. The Bolivarian Culture Minister indicated that the Commission will carry out its mission through tasks such as the preparation of documentary work on colonialism and the compilation of existing investigations in this regard. "It is an effort to search for the truth to achieve justice and reparation," Villegas said, explaining that what is sought is a "symbolic reparation" that consists of a request for forgiveness from the highest levels of the countries that were involved in colonial plunder. https://www.telesurenglish.net/news/Venezuela-Sets-Commission-to-Expose-the-Truth-of-Colonialism-20220126-0007.html
---
Human Rights Should Not Be a Political Tool, Venezuela Warns
25 January 2022 25 January 2022 Vice President Rodriguez stressed the importance of collaborating in favor of international cooperation during the presentation of her country's human rights report. During the presentation of Venezuela's Periodic Human Rights Review (UPR) at the United Nations in Geneva, Switzerland, Vice President Delcy Rodriguez called on Tuesday to avoid using the international human rights regime as a political tool. "In this same room, where human rights protection importance is being discussed, representatives of the countries that impose unilateral coercive measures are present," Rodriguez said, and recalled the over 500 U.S. economic sanctions against the Bolivarian government and U.K. kidnapping of Venezuelan gold. "We raise our voice to make this situation known and take measures to counteract it," she added, stressing that such sanctions undermine the rights of the Venezuelans since they seek to promote the presence of foreign powers in the South American country in the form of "humanitarian" intervention. The Bolivarian vice president pointed out that the freezing of Venezuelan assets makes it difficult to acquire vaccines and medical products to combat COVID-19. Despite this situation, 95 percent of adult Venezuelans have already been vaccinated against coronavirus. "President Nicolas Maduro's administration has always prioritized the attention of the population in matters of vital importance such as housing, education, and health care," Rodriguez assured, adding that the Venezuelan health system set an example for the world in halting coronavirus contagions. She highlighted that the Bolivarian government also has managed to build 3,6 million homes for vulnerable families over the last year and make its country's gross domestic product grow by over 7 percent over the last semester. "Instead of promoting coercive measures against its political adversaries, the United States and other developed countries should collaborate in favor of international peace, unity, and cooperation. Otherwise, all nations will continue to face large-scale problems," she stated. https://www.telesurenglish.net/news/Human-Rights-Should-Not-Be-a-Political-Tool-Venezuela-Warns-20220125-0009.html
---
Venezuela To Present 3rd Human Rights Report to United Nations
25 January 2022 The presentation of the periodic review will allow the Bolivarian nation to demonstrate the impact on the enjoyment of human rights caused by the U.S. illegal sanctions. On Tuesday, Venezuela presents its Universal Periodic Human Rights Review (UPR) at the United Nations in Geneva, Switzerland. This presentation is a commitment that the UN countries must fulfill every five years. Vice President Delcy Rodriguez is expected to present the Venezuelan universal periodic review through a videoconference that will take place amid the sessions of the United Nations Human Rights Council (OHCHR). Hector Constant, the Venezuelan ambassador to the United Nations in Geneva, recalled that his country presented its first two periodic reviews in 2011 and 2016. He also stressed that the presentation of the periodic review will allow the Bolivarian nation to demonstrate to the world "the enormous impact" on the enjoyment of human rights caused by the illegal sanctions promoted by the United States against Venezuela. "We have to show that we have been a country that has been besieged, vilified, and attacked and that despite that... we continue to reap a series of important successes and social, cultural, political, and civil achievements, which are part of that range of human rights that we are absolutely committed to honoring," Constant said. "The UPR is a State-driven process, under the auspices of the Human Rights Council, which provides the opportunity for each State to declare what actions they have taken to improve the human rights situations in their countries and to fulfill their human rights obligations," the OHCHR explained. "As one of the main features of the Council, the UPR is designed to ensure equal treatment for every country when their human rights situations are assessed. The ultimate aim of this mechanism is to improve the human rights situation in all countries and address human rights violations wherever they occur. Currently, no other universal mechanism of this kind exists," it added. Between Jan. 24 and Feb. 4, the OHCHR will review the UPRs from countries such as Togo, Syria, Zimbabwe, Uganda, East Timor, Moldova, South Sudan, Haiti, and Iceland. https://www.telesurenglish.net/news/Venezuela-To-Present-3rd-Human-Rights-Report-to-United-Nations-20220125-0004.html
---
Israeli Occupation Prevents Urgent Medical Equipment Entering Gaza
24 January 2022 Besieged Gaza (Palestine Online)- The Ministry of Health called on all concerned parties to pressure the Israeli occupation to let diagnostic medical devices, which have been held for months, into the Gaza Strip. The Ministry said during a press conference held at the Government Information Office headquarters this morning, on Wednesday, that the Israeli occupation continues to perpetuate its inhuman and immoral practices against patients in the Gaza Strip, by depriving them of their treatment rights by various means that increase the suffering of patients. Patients are prevented from reaching hospitals and all medical aid and services are prevented from entry. It added that getting in diagnostic medical devices and spare parts and getting out other devices to complete the urgent necessary maintenance for them are also prevented. These devices are used in governmental and non-governmental health sectors, such as the CT scan, fluoroscopy device, mammography device, and two X-ray devices. The Ministry pointed out that at a time when the world is on alert to confront the new mutated Corona virus, the Israeli occupation is committing crimes by impeding the entry of several diagnostic and medical devices that help enhance the readiness of the health system in the Gaza Strip, which is on the verge of the fourth wave. The Ministry explained that the Israeli occupation continues to prevent the entry of eight mobile x-ray machines for the second time in a year, and they are devices granted by the Kuwait Fund and delivered by the Palestinian Development Council "PECDAR". The devices are important because they provide diagnostic services to patients in different departments, including critical departments such as care departments and children's nurseries. In its statement, the Ministry added that the Israeli occupation has been reluctant in introducing special devices to the oxygen generating station and kidney pumps and is preventing the repair of many medical devices in the governmental and non-governmental health sectors, which include MRIs, CT scans, regular rays, and mobile devices, as well as preventing the entry of spare parts needed to repair these necessary devices. The Ministry explained that the occupation deliberately delays the entry of spare parts for medical devices and taking other devices outside the Gaza Strip for maintenance, such as surgical endoscopes, air treads used to stabilize complex fractures, spent ray tubes, and calibration devices for medical imaging. The Ministry of Health renewed its call to international and humanitarian health institutions to pressure the Israeli occupation to introduce diagnostic medical devices in light of their urgency as part of the efforts to maximize preparedness to confront the Covid-19 pandemic and to renew health facilities. The Ministry noted that it has provided all international health and humanitarian institutions, led by the World Health Organization and the International Committee of the Red Cross, with all the reports that prove that the occupation is deliberately not allowing these devices and spare parts in. http://palestineonline.org/gaza-7/?fbclid=IwAR0feHZQ-yjd1ZUSv75XK7VG6E7-WIQAf56fxzy4awhUacgHq98hS-lcSIU
---
Pro-Palestine Activists Arrested At Sit-Down Protest In Front Of Israel Embassy In Washington
27 January 2022 Activists protesting Israeli policy in the Palestinian territories were arrested Sunday afternoon in front of the Israeli embassy in Washington. 27 January 2022 Washington (Palestine Online)- A number of activists were arrested Sunday after staging a sit-in protest in front of the Israeli embassy in Washington against Israeli settlement expansion and expulsions of Palestinians. About 400 to 500 activists protested in front of the embassy for about an hour on Sunday afternoon, against Israeli settlement expansion in Sheikh Jarrah, Hebron and the Negev ("Naqab") Desert. The protest was organised by the Palestinian Youth Movement. A smaller group of the demonstrators then staged a sit-in, calling for an end to both settlement expansions in the occupied territories and US military funding to Israel. They also called for fair media coverage of the occupation. A total of seven activists were arrested by secret service officers at around 5:30pm. They were released overnight. Zaid Khatib, a local member of the Palestinian Youth Movement, attended the demonstration on Sunday. He was not arrested, but said he found the police response to the demonstrators heavy-handed. "We saw more than 10 secret service forces' vans," he told The New Arab. "There were more police than people they wanted to arrest." In spite of the arrests, he was heartened by his fellow demonstrators' determination. "First and foremost, it was uplifting to see people committed to the struggle, to hold their ground against the secret service and place themselves at risk," he said. Israel demolished a Palestinian family's home in East Jerusalem's Sheikh Jarrah neighbourhood last week, reigniting uproar and protests from Palestine to other parts of the world. Dozens of Palestinian homes are under threat of demolition across East Jerusalem. The Israeli municipality says it plans to turn land in Sheikh Jarrah on which Palestinian homes sit into a public space. Activists say that Israel intends to build a religious Jewish school in place of the recently demolished home in Sheikh Jarrah, while Jerusalem municipality says it will construct a school for children with special needs on the site. A biblical theme park is planned for another area in occupied East Jerusalem. In the Negev, Israel is demolishing Palestinian Bedouin property to clear land for an afforestation project run by the controversial Jewish National Fund. http://palestineonline.org/pro-palestine-activists/
---
Israeli Occupation Bars Entry Of Warm Clothes Into Unheated Cells Of Palestinian Detainees
27 January 2022 Occupied Palestine (Palestine Online)- Palestinian detainees in Israeli jails are suffering from the cold due to a lack of heating, along with authorities' blocking of donations of winter clothes, a Palestinian official body said Thursday, and Anadolu News Agency reports. "All detainees suffer from shortages of clothes and blankets and the lack of heating means that could protect them from the cold weather," the Palestine Liberation Organisation (PLO)-run Commission for Detainees and Ex-Detainees' Affairs said in a statement. The statement added that Israeli authorities also hindered and restricted the entry of cold-weather clothing and blankets to the inmates. It added that Israel's inhumane policy is part of a systematic effort to erode Palestinian detainees' determination and resilience. The statement demanded that international human rights groups intervene to help the Palestinian detainees. As of last December, Palestinian NGOs estimated that there are around 4,600 Palestinian detainees in Israeli jails, with at least 600 suffering from illnesses as well as 160 juveniles and 34 women inmates. http://palestineonline.org/palestinian-detainees-2/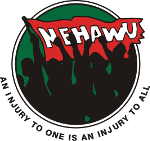 Issued by NEHAWU International Service Centre
For more information, please contact Head Office