Contents
---
Bacede's lawyer works for Mswati's regime as a spy, leaks critical information about pro-democracy MPs
19 February 2022
Michael Tsabedze, a lawyer who was part of the incarcerated pro-democracy Members of Parliament(MPs) legal team allegedly worked as a spy for Mswati's regime.
Documentary evidence in our possession suggests that Tsabedze who was serving articles under TR Maseko Attorneys was allegedly offered a job by the State at the Attorney General's(AG) office as a token of appreciation for spying on the pro-democracy MPs.
On or around 17th January 2022, the lawyer allegedly recorded MP Bacede Mabuza during a consultation at Matsapha Maximum Prison, he subsequently leaked the audio to investigators and State journalists.
It has been disclosed that MP Bacede Mabuza was allegedly not aware that he was being recorded by the lawyer.
Reached for comments, lawyer Michael Tsabedze confirmed that he was secretly working for the Attorney General's Office while representing the pro-democracy MPs, but denied ever sharing secrets of the MPs with the State.
When asked why he recorded MP Bacede without his permission during a consultation, the lawyer said he wanted to refer to the recording while preparing some documents for the MP's case.
"It's true that I am working for the AGs office, I wanted to sign a contract first with Government before withdrawing my services as a lawyer for the MPs.I want to assure you Nkhosi that I never shared private information about the MPs with the State.Even the recording you are asking me about, it's true that I recorded MP Bacede during a consultation, however, I did that specifically to refer to the recording while preparing some documents. Bacede did question me and asked why I recorded him without his permission and I gave him the same explanation. He warned me not to record him again without his permission", said the lawyer.
But an independent investigation by this Swaziland News uncovered that as part of the alleged spying, the lawyer was 'hiding' some of the MP's files at the Attorney General's office.
When questioned by this publication about MP Bacede's files allegedly found at the AGs office, lawyer Michael Tsabedze said the files were kept there after he secured employment with the State, he consistently maintained that he never shared the MPs' information with anyone.
Evidence in our possession discloses that even though the politically motivated MPs' criminal case was handled by the office of the Director of Public Prosecutions(DPP), Attorney General Sifiso Khumalo was the 'mastermind' in ensuring that they were kept behind bars.
As a result, the office of the DPP allegedly works closely with Khumalo in prosecuting the pro-democracy MPs.
An insider within the AGs office told this publication that the State was aware that the MPs might win the case due to lack of evidence, however, the purpose of spying was to gather more information and Bacede's secrets that might incriminate him in another case.
"The plan here is to gather information that might be used in arresting Bacede again shortly after being released.They want him convicted in another criminal case so that he cannot stand for elections. So this lawyer was spying on him, he even tried to establish friendship with Bacede's staff to get more information", said the insider within the AG's office.
Questions were sent to Sifiso Khumalo, the Attorney General, however, he had not responded at the time of compiling this report.
Speaking to this publication,Human Rights Lawyer Thulani Maseko said he was shocked to learn that the lawyer who was under training in his office was also working with the AGs office.
"He was still under training, serving articles under my office and I wasn't aware that he was working for the Attorney General's office.I was then informed that he works with the AGs office on Wednesday", said the Human Rights Lawyer.
It has been disclosed that the State planted the lawyer and other State controlled journalists to spy on the MPs and other pro-democracy leaders, like Tsabedze, some of the journalists who spied for the regime were rewarded with jobs in government.
Reached for comments, lawyer Sicelo Mngomezulu, the South African Correspondent Attorney representing the pro-democracy MPs confirmed the matter but declined to give further details.
"We are aware of the issue you're raising with me, regrettably I cannot comment further for now, save to say that we condemn any form of unethical conduct in the legal profession, let alone infiltration, as it seems to have happened in this case.We're disgusted. Thankfully, the solid defense that our Clients have against their charges has not been adversely impacted by the nefarious actions of the gentleman you're referring to", said the South African Correspondent Attorney representing the pro-democracy MPs.
The pro-democracy MPs were arrested after an order allegedly issued by King Mswati merely for demanding democratic reforms on behalf of the people who elected them, they are facing politically motivated terrorism charges. Reference
---
Mswati's police block students from entering the High Court, demands face masks
23 February 2022
Students who had come to support the incarcerated pro-democracy MPs Bacede Mabuza and Mthandeni Dube were blocked from entering the High Court by Mswati's police allegedly for not wearing face masks.
Police Spokesperson Phindile Vilakati declined to comment on the matter.
Speaking to this Swaziland News, Mlamuli Masuku one of the students who had come to support the MPs under the Swaziland National Union of Students (SNUS) banner said the police ordered them to buy face masks at Mangwaneni which is over a kilometer away instead of nearby stalls.
"The police officers are saying we should go back to Mangwaneni and buy masks before joining the crowd.They also claimed that SNUS was troublesome", he said.
Reference
---
National Defense Officer Prince Sihlangsemphi rushed to NetCare Hospital in South Africa, welcomed by protestors
24 February 2022
Prince Sihlangusemphi, the National Defense Officer was on Thursday rushed to NetCare Hospital in South Africa in a critical condition.
According to his immigration documents, the Prince crossed the order at around 10am on Thursday driven in an ambulance registered GSD 320 HE, he had been admitted at the Mbabane clinic before being transferred to South Africa.
But when the Prince arrived at the hospital at around 1500hours, Swazis living in South Africa welcomed him with a protest demanding that he goes back to eSwatini to receive medical care.
Reached for comments, Nandipa Dlamini of the United Eswatini Diaspora who was participating in the protest on Thursday afternoon said they wanted the Prince to go back to Swaziland to receive medical care.
"They collapsed the health system in eSwatini and now they are being rushed to South African hospitals here because they can afford to do so, he must go back home", she said.
Efforts to reach Prince Sihlangusemphi's family proved unsuccessful at the time of compiling this report.
This is not the first time Swazis living in South Africa protested against authorities at the Netcare hospital, a few weeks ago, they demanded that Mswati's Mother Ntombi Tfwala must be airlifted back to eSwatini.
Reference
---
Mswati blasts National Commissioner, questions why police fail to arrest Solidarity Forces
24 February 2022
Mswati allegedly summoned National Commissioner of Police and other senior officers on Tuesday and heavily questioned them as to why they were failing to arrest members of the Swaziland International Solidarity Forces(SISF).
A senior police insider very close to the matter told this Swaziland News that the King stated categorically that he felt unsafe in the midst of the ongoing shooting and burning of properties. Mswati had earlier spoke with arrogance when dispersing his regiments in January 2022 saying anything that would burn in eSwatini would be interpreted as a direct attack to him as the King.
" Today I am reminding those calling for democratic reforms that everything in eSwatini belongs to the King, anything that will burn from now will be interpreted as a direct attack to the King", said Mswati.
But the police insiders told this publication that in the midst of the ongoing operation by the Solidarity Forces, Mswati now feel unsafe.
"He said now he doesn't even know whether he has a police force that will protect him or not if people can terrorize the country in this manner. The King then suggested that security forces must stage roadblocks at night all over the country to catch these Solidarity Forces", said the source.
It has been disclosed that after the King's meeting with the senior officers on Tuesday, National Commissioner of Police William Dlamini subsequently summoned other key officers to a meeting at the Police College on Wednesday.
"During the meeting at the Police College, they ordered us to leave cellphones saying we will record and send to Zwemart. At the meeting, a fight almost erupted among the officers as they questioned why the Commissioner urged them to work as promotions are selective. The main concern was the continuous renewal of contracts for retired officers and the police officers asked what will motivate them to work if promotions are blocked by people who are not willing to retire. As the situation stands, some retired officers who had their contracts renewed are not even saluted as part of the silent protest by the aggrived officers", said the senior officer.
Reached for comments, National Commissioner of Police William Dlamini said he was not aware of any meeting.
"Nguyiphi le-meeting lokhuluma ngayo Nkhosi?, I am not aware of any meeting", said the National Commissioner.
Speaking to this publication, the Commander of the Solidarity Forces said they welcomed the strategy by Mswati and the police to stage roadblocks as it would work to their advantage.
"The Solidarity Forces is not a bunch of cowards without a political mission. We are revolutionary fighters who are fighting for democratic change in Swaziland for the restoration of the dignity of our people", he said.
The Commander reminded King Mswati that the problem in Swaziland was not a security problem but a political problem.
"The problem in Swaziland is not a security problem but a political problem and no amount of roadblocks will stop or discourage us from our determination to fight and bring about democratic changes. In fact, any increased mounting of roadblocks in Swaziland will work to our advantage because we will attack those roadblocks and confiscate even more arms from the enemy so that we arm our people even better for the battles that lie ahead", said the Commander of the Solidarity Forces.
Reference
---
Donbass Update: Ukraine Continues to Shell Residential Areas
24 February 2022
With the support of the Russian army, the militias of the Donetsk and Lugansk republics are performing a counteroffensive to repel the Ukrainian aggression in their territories.
On Thursday, the Russian army and militias from the Donetsk and Lugansk republics are carrying out operations to expel the Ukrainian forces from the Dombass. Below are the most recent developments in this conflict.
Ukrainian artillery shells the residential neighborhoods of Donetsk. On Thursday, the Donetsk People's Militia Spokesman Eduard Basurin denounced that the Ukrania continues purposefully bombarding thirteen residential areas. So Far, the Ukrainian aggression has left one civil dead and eight people wounded.
"The enemy has opened fire against the territory of the Donetsk People's Republic over 50 times since the beginning of the day, employing 152mm and 122mm artillery guns, 120mm and 82mm mortars, firing over 300 shells," he pointed out.
The bombardments have affected houses and infrastructure in areas such as Gorlovka, Dokuchayevsk, Yelenovka, Ozeryanovka, Sakhanka, Zaichenko, Leninskoye, and Kominternovo.
Romania intercepts Ukrainian fighter and forces it to land. The Romanian defense ministry reported that two of its two F-16 fighters intercepted a Ukrainian military plane that was making an unauthorized flight in the northern part of Romania.
The interception was carried out peacefully and following international protocols. The Ukrainian plane was escorted to the Bacau 5 Air Base, where the Ukrainian military pilot turned himself in to the Romanian authorities.
"There will be no war on the land of Romania," Defense Minister Vasili Denko said, calling on the warring parties to resume diplomatic negotiations.
Ukraine seeks to return to "the path of peace." Although President Volodymyr Zelensky did not acknowledge his contribution to the ongoing crisis, he hinted that his country would be ready to abandon its warlike intentions in the Donbass region.
"It was not Ukraine that started the war, but it is Ukraine that proposes to return to the path of peace," he said, as reported by Sputnik.
The United States sends warplanes to Lithuania. On Thursday, in the midst of the conflict unleashed in the Donbass region, US F-35 military planes landed in Siauliai, where the United States has concentrated the 3-66 heavy armored battalion.
Facebook shuts down the page of RIA Novosti. Alleging the spread of "false information," the U.S. company Facebook suspended the account of the news agency RIA Novosti for three months.
"We consider this to be another blatant violation of the freedom of speech by the American social network," the Russian agency said and announced that it would ask its country's authorities for support to resume its presence on Facebook.
The Ukrainian military infrastructure continues to weaken (13:32 GMT). Russia reported that its Armed Forces managed to disable 74 Ukrainian military facilities, including 11 airfields, 3 command posts, and 18 S-300 and Buk-M1 air defense radar stations. Russian forces also shot down a combat helicopter and 4 Bayraktar TB2 drones.
Ukrainian soldiers join the fight of the Donest People's Republic (DPR). Fifteen servicemen of the Ukrainian Army's 57th Mechanized Infantry Unit ignored their superiors, laid down their weapons, and joined separatist militias, according to the People's Militia of the DPR.
The popular militias continue their advance. Currently, the Donetsk and Lugansk militias are carrying out a successful counteroffensive to repel Ukrainian aggression. In an attempt to contain their advance, the Ukrainian military command ordered its troops to fight along the entire front line. It also decreed a "state of aerial threat" in Kiev. So far, the Russian Armed Forces have disabled 74 facilities of Ukraine's military infrastructure.
The Czechs restrict their diplomatic relations with Russia. The Czech Republic Prime Minister Petr FIala announced that his country will close two Russian consulates located on his territory and withdraw the Czech consulates in the cities of St. Petersburg and Yekaterinburg. The Czech authorities will suspend the issuance of visas to Russian citizens.
NATO to step up presence in eastern part of alliance, not inside Ukraine. On Thursday, NATO's Secretary-General Jens Stoltenberg said that the members of his organization agreed to further beef up its forces on its eastern flank near Ukraine but it has no intention of sending troops into Ukraine.
NATO did not have combat troops inside Ukraine and it "had no intention of deploying NATO troops to Ukraine," Stoltenberg said and called on Russia to immediately withdraw its forces from Ukraine.
Ukraine severs diplomatic ties with Russia. Ukrainian President Volodymyr Zelensky said that Kiev decides to sever diplomatic relations with Moscow after Russia launched military operations in Donbass.
"Ukraine is defending itself," Zelensky said, adding that over 40 Ukrainian soldiers and around 10 civilians were killed in the conflict.
The Ukrainian president announced that his administration will deliver weapons to all his compatriots who are ready to fight. During his speech, he called on Russian citizens to reject the government of President Vladimir Putin and protest against the war.
Earlier Thursday, Putin authorized the "special military operation," and Ukraine confirmed that military installations across the country were under attack.
The tweet reads, "The Ukrainian Armed Forces' Special Operations Center, near Kiev, was filmed in flames on Thursday (24). This happens as Russia carries out a military operation in Donbass and uses high-precision weapons against Ukrainian targets."
Donetsk and Lugansk Militias execute counteroffensive. With the support of the Russian army, the militias of the Donetsk and Lugansk republics are performing a counteroffensive to repel the Ukrainian aggression in their territories.
"They broke through the first echelon line of defense of the Ukrainian Armed Forces," Russian Defense Minister spokesperson Gen. Igor Konashenkov said, warning that the Ukrainian Security Service is carrying out disinformation operations through social networks.
"Movies of alleged 'mass casualties' among the civilian population were staged in Ukrainian cities... Their aim is to accuse Russia of indiscriminate and disproportionate attacks so as to intimidate the civilian population."
Konashenkov emphasized that the Russian army is not attacking Ukrainian cities or threatening the civilian population. Ukrainian forces, however, continue to carry out attacks on Donbass cities and cause civilian casualties.
Reference
---
Russia Announced Special Military Operation To Protect Donbas
24 February 2022
The presidente Vladimir Putin said that he had made the decision to hold a special military operation in response to the address of leaders of Donbas republics.
Russian President Vladimir Putin has announced a special "military operation" to protect Donbas region.
Putin said that he had made the decision to hold a special military operation in response to the address of leaders of Donbas republics.
"I made the decision to hold a special military operation. Its goal is to protect the people that are subjected to abuse, genocide from the Kiev regime for eight years, and to this end we will seek to demilitarize and denazify Ukraine…", Putin said in a televised address.
Likewise, the Russian head of state has claimed that his country has no plans to occupy or invade Ukrainian territories.
Shortly after, the Russian defense minister, Sergei Shoigu, said that the Armed Forces are not delivering artillery or air strikes against Ukrainian cities and are striking military infrastructure with precision weapons.
"Precision weapons are degrading military infrastructure, air defense facilities, military aerodromes and aviation of the Ukrainian armed forces," Shoigu said.
Reference
---
Timeline of The Russia-Ukraine Crisis
24 February 2022
Among other objectives, the Russian military operation in the Donbass seeks to contain the "fundamental threats" prompted by the expansion of NATO towards Russian borders.
After months of diplomacy failing to resolve the crisis generated by Ukraine and the North Atlantic Treaty Organization (NATO), Russia decided to support the Donetsk and Luhansk republics through a special military operation in Donbass. The main events leading up to the ongoing military actions are presented below:
RELATED:
Donbass War Update: Ukraine Severs Diplomatic Ties with Russia Feb. 24, 2022
-- Putin on Thursday authorized "a special military operation" in Donbass.
"Our plans do not include the occupation of Ukrainian territories. We are not going to impose anything on anyone by force," Putin said, noting that Russia's move is in response to "fundamental threats" of the North Atlantic Treaty Organization (NATO) which has expanded to eastern Europe and brought its military infrastructure closer to Russian borders.
-- The Russian Armed Forces are destroying "military infrastructure, air defense facilities, military airfields, aviation of the Ukrainian Armed Forces" with high-precision weapons, not targeting Ukrainian cities.
-- Ukraine on Thursday severed diplomatic relations with Russia. Ukrainian President Volodymyr Zelensky declared martial law in the country following Russia's military operation.
Feb. 21, 2022
-- The Russian Security Council held an extraordinary meeting, when the country's top officials supported the recognition of Lugansk and Donbass.
-- Putin signed two decrees recognizing Lugansk and Donbass as independent and sovereign states. He also inked the Treaty of Friendship, Cooperation and Mutual Assistance between Russia and Lugansk and Donbass respectively.
-- Through a statement attributable to his spokesperson, UN Secretary-General Antonio Guterres called for "peaceful settlement" of the conflict in eastern Ukraine, in accordance with the Minsk Agreements, as endorsed by the Security Council in resolution 2202 (2015).
-- At the Security Council emergency meeting on Ukraine, China's permanent representative to the United Nations, Zhang Jun, called on all parties concerned to seek "reasonable solutions" to the Ukraine issue.
Feb. 18, 2022
-- An explosion occurred close to "DPR government building." Local armed groups in eastern Ukraine ordered the evacuation of civilians to Russia, citing the danger of a possible military offensive.
Feb. 17, 2022
-- The Ukrainian military claimed that local armed groups in eastern Ukraine launched shelling on the area controlled by government forces. Local armed groups in eastern Ukraine accused the Ukrainian government forces of first using heavy weapons to attack areas under their control. Tensions in eastern Ukraine continued to escalate.
Feb. 2, 2022
-- The United States decided to deploy additional troops to Europe, including 1,000 troops to be repositioned to Romania and another 2,000 troops to be sent from the U.S. to Germany and Poland, in preparation for what it claimed to be an "imminent" Russian invasion of Ukraine.
Jan. 26, 2022
-- U.S. Secretary of State Antony Blinken announced that the United States has delivered a written letter to Russia addressing Moscow's concerns amid escalating tensions on Ukraine's border.
Jan. 22, 2022
-- The Ukrainian Defense Ministry said the first shipment of military aid from the United States arrived in Kiev.
Jan. 10-13, 2022
-- The latest round of talks aimed at defusing tensions between Russia and the West within the framework of the Organization for Security and Cooperation in Europe ended without a breakthrough as both sides warned of potential escalation.
Dec. 10, 2021
-- The Russian Foreign Ministry demanded "legal guarantees" that NATO wouldn't expand eastward.
Feb. 7, 2019
-- The Ukrainian parliament passed a constitutional amendment stating Ukraine's commitment to joining NATO.
Feb. 12, 2015
-- The leaders of Ukraine, Russia, Germany and France announced a peace deal in the Belarusian capital of Minsk, which envisaged a ceasefire between Ukrainian government troops and local armed groups in eastern Ukraine.
Dec. 23, 2014
-- The Ukrainian parliament renounced Ukraine's "non-aligned" status with the aim of deepening cooperation with NATO.
Sept. 5, 2014
-- Then Ukrainian President Petro Poroshenko and local armed groups in eastern Ukraine signed a ceasefire protocol in Minsk, where envoys from the two warring sides as well as Russia and the Organization for Security and Cooperation in Europe held talks for a possible political solution to the crisis.
April 2014
-- Unrest erupted in eastern Ukraine, where protesters seized government buildings, demanding a referendum on autonomy and closer ties with Russia.
February 2014
-- Amid rising protests, Ukraine's parliament voted to dismiss then President Viktor Yanukovych and set early elections.
November 2013
-- The Ukrainian government suspended the signing of partnership agreements with the European Union to avoid straining ties with Russia, triggering widespread protests, which soon snowballed into a violent nationwide movement against the authorities.
Reference
---
Cuban Health Worker's Union Strengthens International Ties
21 February 2022
The Cuban National Union of Health Workers fortifies relations with organizations internationally.
Santiago Badía, general secretary of the National Union of Health Workers (SNTS), noted the strengthening of the relations between the Union and organizations of several countries.
The secretary noted that SNTS is closely joined with organizations worldwide, such as the South African Health Workers Union and UNISON, which is the largest labor union in the United Kingdom.
He also praised the close relationship between Cuba and the Latin American and Caribbean Confederation of State Employees (CLATE). CLATE as an international trade union, gather together state workers from Latin America and the Caribbean.
In this sense, Badía said that Cuba has excellent relations with the American Nurses Association. This association has visited Cuba and studied at the National School of Public Health in Havana.
Around 500,000 workers of the National Health Union will be feted today across the country on the occasion of the 50th anniversary of the Union's creation.
There are also sister federations in Canada that seek to know the truth about Cuba, Badía said.
According to him, members of the French Health Union recently expressed their admiration about Cuba's hard work in the fight against the COVID-19 pandemic. They acknowledged Cuba, a small island in the Caribbean facing multiple economic issues, for having developed three Covid-19 vaccines and two other vaccine candidates.
Badía recognized Cuba's fraternal ties with many countries worldwide, expressing that Cuba is a unique example of solidarity.
Reference
---
International Campaign Against US Military Bases in Cuba
23 February 2022
On Wednesday, an international message was released via Twitter against the military bases placed in Cuba.
Cuba led on Wednesday a world message action via Twitter condemning the U.S. military bases remaining in Cuba on the occasion of the International Day of Struggle against U.S. and NATO Foreign.
The initiative was scheduled for 09:00 hours, local time, according to the report by the Cuban Institute of Friendship with the Peoples (ICAP).
This initiative was a response to the call made by the World Peace Council, aimed to take actions condemning the existence of these enclaves on foreign soil.
The ICAP reported that the main hatch tags used for the event were #ReturnGuantanamotoCubaNow, #Cuba, and #CubaVive. The Institute noted that the date was scheduled since the first International Conference against the United States and NATO Military Bases, held in 2018.
Cuba will not cease its fight for the return of the territory occupied by the Guantánamo Naval Base, nor will it stop demanding the lifting of the criminal blockade imposed more than 60 years ago and which affects the economic and social development of our people.
The ICAP highlighted that the date was chosen honoring the signing of the agreement with the illegal U.S. naval base in Guantanamo, becoming official on February 23, 1903.
This illegal base placed in eastern Cuba was the first established by the U.S. government outside its borders.
Reference
---
Cuba Urges US Not To Promote NATO Spread Towards Russian Border
23 February 2022
"The U.S. government threatened Russia and manipulated the international community about the risks of an imminent military invasion to Ukraine," Cuba's Foreign Affairs Ministry stated.
On Tuesday, Cuba's Foreign Affairs Ministry urged the United States to stop prompting the North Atlantic Treaty Organization (NATO) expansion towards Russian borders.
"Over the last weeks, the government of the United States has threatened Russia and manipulated the international community about the risks of an imminent military invasion to Ukraine, an action that seriously threats regional stability and peace," the Ministry recalled.
To back this strategy, the U.S. launched an anti-Russia media campaign, which aims to justify its supply of arms to Ukraine and its deployment of troops in this Western European country.
"The NATO continued deployment of attack systems near our borders implies that the flight time of missiles to our territory would be only five to seven minutes," Russia's President Vladimir Putin warned, stressing that such interference violates the Minsk Protocol.
On Monday, Russia's Federal Security Service (FSB) officers destroyed two Ukrainian combat vehicles that violated their country's state border earlier in the day by entering the Rostov region without proper authorization.
Five members of the sabotage and reconnaissance group were killed, while there was no casualty among the Russian troops and the FSB officers. Cuban chancellor Bruno Rodriguez lamented the deaths but stressed Russia's right to defend itself against such attacks.
"We call on the United States and NATO to heed Russia's well-founded demands for security guarantees through a constructive and respectful dialogue that avoids armed confrontations," Rodriguez stressed
Reference
---
Israel detains thousands in solitary confinement despite health risks, study finds
23 February 2022
Thousands of detainees are forced into isolation for years, including minors, by the Israel Prison Service (IPS), according to the NGO Physicians for Human Rights.
Figures published by the prison service reveal 1,587 inmates had been held in complete solitary confinement in the first ten months of 2021, including 66 minors.
By the end of August of the same year, another 1,134 prisoners, among whom 53 were minors, were held in "individual seclusion" or "two-person seclusion".
Forms of isolation are considered psychological torture prohibited under Article 1 of the 1984 Convention against Torture and Other Cruel, Inhuman or Degrading Treatment or Punishment. It is also inhumane and degrading behaviour prohibited under Article 7 of the International Covenant on Civil and Political Rights.
Palestinian prisoners and detainees are held in solitary confinement as a disciplinary measure, or in isolation, for reasons of state, prison or prisoner's security, authorities claim. Some are forced to carry out large parts of their sentence in such detention.
The figures provided by the prison service also indicate how long prisoners were held in "seclusion."
Of the 1,134 prisoners, 63 inmates were held for more than two months, reported Haaretz, 17 were held for a period of more than six months, 19 were held for a period between one and three years and 18 prisoners were held in seclusion for over three years.
The Israeli authorities have established special isolation units in many of their prisons, most notably Nafha Prison opened in 1980, Nitzan-Ramle opened in 1989 and in Beersheba, opened in 1992.
Anat Litvin, who oversees the department for incarcerated persons within Physicians for Human Rights, said:
The prison service is holding hundreds of inmates in solitary conditions, with full knowledge of the destructive impact it can have on their health.
The stats were compared to the year 2020, which exposed that the number of prisoners confined in solitary confinement was not unusual. In 2020, 1,979 inmates were held in solitary confinement, among them 88 minors, and 2,015 inmates, 64 of whom were minors, were held in seclusion.
Frustrated at the lack of cooperation regarding Israel's prison service's response to its freedom of information request, Litvin added: "Although the prison service said it had manually reviewed over 1,100 inmate files in its response to the request, it could not provide data as to the number of inmates held in solitary confinement."
"They also could not determine who or how many among them suffer from psychiatric illnesses and are under psychiatric care, which would place them among one of the at-risk groups whose solitary confinement is banned by the United Nations."
This led NGO Physicians for Human Rights to conclude that, "In the best case, the prison service is trying to prevent the requested information from emerging and in the worst case, it is not conducting proper follow-up for prisoners held in solitary conditions, and knowingly putting their health at risk."
Hundreds of Palestinians have been held in solitary confinement by Israel, to the extent that the policy is now part of the systematic approach approved by the legislature and implemented by the executive. Palestinian women are not excluded from this inhumane policy.
Israel is holding more than 4,500 Palestinian prisoners in its prisons, including 41 women and 140 children, all of whom are subject to the policy of isolation and are thus cut off from the outside world, which constitutes a form of psychological torture.
Reference
---
England's "Live with Covid" Approach Means More Working-Class Deaths
23 February 2022
On Monday, UK prime minister Boris Johnson announced the end of many coronavirus mitigation measures and reduction in free testing. The working class should be able to decide when it's safe to roll back prevention measures and how to do so.
On Monday, embattled UK prime minister Boris Johnson announced that it was time for England to learn to live with the coronavirus, ending remaining legal restrictions and most free testing. Starting Thursday, routine contact tracing will end, and people who test positive will no longer be legally required to isolate. Vaccinated contacts of those who have tested positive will no longer be required to test for seven days, and unvaccinated contacts will not be legally required to isolate. People will not be required to tell their employers if they have tested positive. Free rapid tests, which are currently widely available, will no longer be provided as of April 1 for everyone except the most vulnerable, which means that people will have to pay to get tested. The government will no longer require people to carry Covid-19 status certification domestically in England. Sick pay to support those diagnosed with Covid-19 who can't work from home will end in late March. These proposed rules would only apply to England, as Scotland, Wales, and Northern Ireland have their own jurisdiction over health issues. This was announced one day after Queen Elizabeth II was confirmed to have tested positive for Covid-19. While Covid-19 cases are certainly on the decline compared to the late December/early January Omicron peak, according to the UK coronavirus data tracker, 30,080 new cases were reported in England on Tuesday.
Johnson has recently come under fire for a series of parties that he hosted in the prime minister's residence on Downing Street during the strictest coronavirus lockdowns. While it is unlikely that Johnson will be prosecuted for the "partygate" scandal and is more likely to be served a fixed penalty notice, members of Parliament have responded to Johnson's denials and apologies with testimony of people who were barred from visiting dying relatives at the time of the gatherings. The Conservative Party can hold a binding vote of no confidence if 54 of them write to formally request one, which would oust Johnson and allow the party to find a new prime minister. So far, relatively few Conservative members of Parliament have publicly called on Johnson to quit, but his rapport with his cabinet may eventually undermine him.
Johnson's own cabinet members have expressed doubt about the new Covid strategy, especially the restriction on the availability of free testing supplies. The government's chief scientific adviser, Patrick Vallance, expressed concern that they should expect more variants in the future and that they could be more severe. Plan B measures such as workers being advised to work from home, requiring masks in indoor public venues, and NHS Covid-19 passes for entry into venues and events were instituted in early December to help curb the spread of Omicron and were already rolled back on January 27. A week before that, school staff and students were no longer required to wear face coverings in classrooms, even as nearly 3 million people in England had Covid-19 the week of January 9 to 15 alone.
High vaccination rates have been cited as the reason to roll back prevention measures, given that 91.4 percent of people in England have received their first vaccine dose, 84.8 percent have received their second dose, and 65.6 percent have received their booster dose. Health secretary Sajid Javid announced on Monday that a second booster vaccination would be offered in the spring to adults ages 75 and over, people living in care homes, and those 12 and older who have immunosuppressive conditions. The government has also announced that it will offer a low-dose Covid-19 vaccine to kids ages five to 11 in England during April. The rest of the countries in the UK also plan to make these vaccines available to children. Vaccine access is incredibly critical — it still protects against the most severe side effects of Omicron and death and hospitalization rates have definitely dropped. But the vaccine-only strategy cannot be pursued when there is still a significant number of cases and when new variants will inevitably emerge due to the imperialist global health system that has fought tooth and nail to prioritize lucrative intellectual property protections over public health, impeding global vaccine production and distribution to the Global South. Isolation with paid sick leave, free rapid and PCR testing, contact tracing, access to therapeutics like monoclonal antibody infusions or oral antiviral medications, and access to free, high-quality masks are also critical mitigation measures for bringing down Covid-19 case numbers and reinfections.
We are in a new phase of the pandemic, but it is not over, no matter how much the capitalists would like to assert that it is. Capitalists and the politicians who serve them have dictated what public health measures should be instituted at every turn, constantly endangering the working class and prioritizing reopening the economy. Because workers are primarily affected by the pandemic mitigation measures or lack thereof, they should be allowed to decide when it is safe to roll back certain protection measures and how they plan to do so. Healthcare workers and scientists, together with the rest of the working class, should be able to decide the thresholds of cases at which it is safe to end contact tracing, reallocate testing supplies, or change isolation lengths. Anyone infected with Covid-19, or who comes into contact with someone who is, should be able to isolate for as long as scientists, not capitalists, say is required without any loss of wages or threat of job loss. To prevent the emergence of future variants, vaccine production and distribution must be ramped up to expedite getting vaccines in the hands of people in the Global South. England's "live with Covid-19" approach really means that capitalists and politicians are no longer even maintaining the veneer of protections for workers. To fight these proposals grounded in capitalist interests and not the scientific reality, we must use our collective power and methods of combat as the working class.
Reference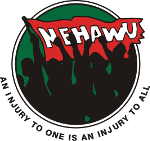 Issued by NEHAWU International Service Centre
For more information, please contact Head Office