NEHAWU Statement On The Constitutional Court Directive On The PSCBC Resolution 1 of 2018 Dispute
---
Saturday April 03 2021
The National Education, Health and Allied Workers' Union (NEHAWU) has noted with concern the Constitutional Court directive issued on the 31st March 2021 on the matter of public servants salary increase.
The court has directed that the application for leave to appeal will only be heard on the 24th August 2021 and that the national union must submit only relevant portions of the Labour Appeal Court (LAC) records that are necessary for the court to determine the matter by no later than 22nd June 2021. Furthermore, the national union is directed to file written arguments which must include arguments on the merits of the appeal by no later than 6th July 2021 while the Department of Public Service and Administration (DPSA) and National Treasury must submit their written arguments no later than the 20th July 2021.
The national union is concerned that 24th August 2021 is too far as this matter must be resolved as soon as possible as our members and workers are subjected to a life of poverty because of the government to elect to renege on the implementation of Resolution 1 of 2018. Furthermore, the decision of the LAC has also affected other sectors who are now dragging their feet in implementing binding collective bargaining agreements.
Currently, parties are already engaged in the bargaining processes for the 2021/2022 circle and this constitutional court process will be used by the employer to delay that process even further. As NEHAWU, we will not tolerate any more delays and our National Executive Committee (NEC) directed provinces to convene members meetings to brief members on the progress of the negotiations, to get a fresh mandate and including starting preparations for a mass action.
The union remains committed to fight until the bitter end to defend its members and workers against the onslaught by our democratically elected government. A loss of the current battle will mean the death of collective bargaining and workers' rights which did not come on a silver platter. In this regard, NEHAWU will continue to use everything in its disposal to fight for the implementation of the last leg of the 2018 agreement and fight for the implementation of the demands for the next bargaining cycle.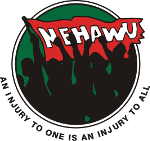 Issued by NEHAWU Secretariat
Zola Saphetha (General Secretary) at 082 558 5968;
December Mavuso (Deputy General Secretary) at 082 558 5969;
Khaya Xaba (NEHAWU National Spokesperson) at 082 455 2500