NEHAWU Limpopo Mourns The Passing of Alph Makaleng Regional Secretary, Comrade Solly Mabusela
---
Friday March 25, 2022
Funeral Service Proceeding
The National Education, Health and Allied Workers' Union [NEHAWU] in Limpopo Province has learnt with great sadness the passing of Alph Makaleng Regional Secretary, Comrade Solly Maraba Mabusela. Comrade Mabusela passed on Wednesday 23rd March 2022 due to a car accident.
NEHAWU is deeply saddened by his death and conveys its deep and heartfelt condolences to his family, friends and comrades in the Mass Democratic Movement (MDM). We wish his family strength and courage during this difficult moment.
His passing is not only a loss to the union but workers in general, especially at this critical moment when the government has embarked on an agenda of weakening collective bargaining and reversing the gains and rights of workers. Comrade Mabusela dedicated his life in championing the interest of workers, fighting for better conditions of service and defending the gains of workers against a brutal system of exploitation.
Comrade Mabusela joined NEHAWU in the early nineties at Mokopane Regional Hospital and has been a Shopsteward for over 30 Years. Due to his leadership qualities, he was elected as Mokopane Branch Chairperson and later as the Branch Secretary. In 2006, He was elected Alph Makaleng Regional Chairperson serving for a term. In 2012, he was elected Alph Makaleng Regional Secretary, a position he held until his untimely passing. Comrade Mabusela also served as COSATU Mokopane Local Deputy Chair including serving in the SANCO Waterberg Regional Executive Committee. At the time of his passing, He was a member of the Central Executive Committee of NEHAWU and a member of the Provincial Executive Committee.
Apart from being a Regional Secretary, Comrade Mabusela was also an activist for social transformation who understood that society progress through a class-struggle and this was evident with him through his participating in the mass democratic movement in various capacities.
In his honour, NEHAWU will intensify the struggle to end all forms of exploitation of workers by employers including defending collective bargaining which is currently under threat from our government.
Death has robbed us of an outstanding leader of the working class who served the union and workers with distinction.
NEHAWU dips its banners at the passing of its Regional Secretary. The details of both memorial and funeral service will be communicated as soon as they are available
END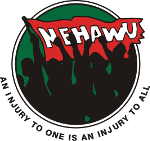 Issued by NEHAWU Limpopo Secretariat Office
Moses Maubane [Provincial Secretary] 063 685 1884 or email: Moses@nehawu.org.za
Jacob Adams [Provincial Deputy Secretary] at 082 558 5966 or email to Jacob@nehawu.org.za
Visit https://www.nehawu.org.za