Contents
---
PAME Solidarity with the French workers' strike on 27 October
27 October 2022
PAME from Greece expresses its solidarity with the new strike actions of the workers and the militant French trade unions on 27 October for wage and pension increases, against inflation and in defense of the right to strike.
On 18 October you gave a proud response against the requisition! Colleagues, you are already victorious! Justice is on your side. That is why workers all over the world, the militant trade unions all over Europe, the forces of the WFTU, everyone, are on your side.
The EU and governments in the service of the monopolies are leading us to conditions of DarkAges, into darkness and cold. To poverty, misery, war. They cultivate xenophobia, racism, support neo-Nazi fascists, attack militant trade unions, ban the right to strike. They want workers scared, disappointed, isolated.
But we are not retreating in France or in Greece! In Greece too, we are moving forward with mobilisations in many sectors for collective bargaining, in working classneighborhoods with demands against inflation and taxation. We are preparing a big General strike for November 9 so that the working class in Greece can also give its own answer.
The workers have the power, we can overthrow them. With organization, with solidarity, with class struggles in France, Greece and throughout Europe!
PAME expresses its solidarity with the new strike mobilizations of the workers and the militant trade unions in France on October 27!
---
EUROF: Solidarity with the General Strike of PAME
26 October 2022
Eurof, European regional office WFTU is alongside November 9 National General Strike of PAME invite all the european trade unions to support this important strike. All around Europe strikes and mobilizations are going on against this situation.
The capitalist crisis deepens and Europe's workers see their lives getting worse, workers' class struggles are flaring up in a number of countries. After Britain and the mobilizations raised almost completely by the trade union bases in postal services, refineries, telecommunications, dockers, energy, healthcare services, airports, in Spain, the Netherlands and the Czech Republic, in Italy, in France with the big struggle and the mass strike of refinery and petrochemical workers, in Greece with the many struggles and the next general strike. These battles of our class are characterized by their size and determination. The bourgeois already feel that the times of social peace they have enjoyed are coming to an end.
On 9 November PAME goes on strike in Greece, the solidarity and support of the class unions is our weapon. FOR THE OVERTHROWING of the anti-people's policy that generates poverty, hunger, exploitation and wars, that leaves the people freezing so as to warm the profits of the business groupsFOR THE DEMAND for substantial increases in wages and pensions, for collective agreements that guarantee stable work with rights, for electricity and basic goods cheap for the peopleWe don't let the bills running and the stress of survival drown us! We stand up now against the business groups, the government, the EU and all the institutions of the system of exploitation, the modern vultures that call us to adapt to poverty, hunger, cold and ultimately death! Now we all need the struggle and the struggle needs us all! To protect our lives! The choice of class struggle is our own path.
EUROF
---
Venezuelan communists vow to build 'alternative' to Maduro in 2024 but reject right-wing overtures
26 October 2022
The Communist Party of Venezuela (PCV) has agreed to build "an alternative" to socialist President Nicolas Maduro in 2024, but ruled out an alliance with those that have undermined the country's sovereignty.
Party leader Oscar Figueroa rejected an appeal from opposition leader Antonio Ecarri who suggested that communists could join right-wing forces in selecting a joint candidate for the presidential election.
Governing United Socialist Party of Venezuela (PSUV) vice-president Diosdado Cabello referred to the statement on his weekly TV programme Going at it with the Club to attack the PCV, whose relations with the ruling PSUV have deteriorated in recent months.
"We have no problem meeting with Antonio Ecarri, but we will not make alliances with sectors that called for military invasions against Venezuela," Mr Figueroa told journalist Mario Villegas in a radio interview.
The communist leader shot back at Mr Cabello's criticism of the party, claiming that it is in fact Mr Maduro that is holding dialogue with the enemies of the Venezuelan people to create "a new pact of elites.
"We are not going to break with a neoliberal government to ally ourselves with someone who called for intervention in the country," Mr Figueroa said.
He said that the communist electoral strategy was not "about building an anti-Maduro alliance" but "about the regrouping of the labour, peasant, community and popular movement to present a genuinely revolutionary alternative to the Maduro government."
The PCV was accused by President Nicolas Maduro of trying to divide the revolutionary movement after it stood candidates against the PSUV in last year's elections.
He accused them of being "agents of imperialism" while the PCV has accused Mr Maduro of waging "anti-communist attacks" on the party, blocking its candidates from standing and other oppressive measures.
A number of communist cadres have been killed in recent months with the party slamming government inaction in bringing the perpetrators to justice. Reference
---
U.S. Faces Immigration Crisis: Detentions Reach Record Level
23 October 2022
U.S. Customs and Border Protection (CBP) recorded an unprecedented number of apprehensions at the U.S.-Mexico border in a fiscal year.
Official figures indicate that from September 2021 to September 2022, immigration authorities made 2.38 million apprehensions of people attempting to cross the southern border of the United States.
This number is a record in the Border Patrol's history and represents an increase of 37% compared to last year, when 1.73 million apprehensions were recorded.
Since the beginning of Joe Biden's administration, one of the main concerns in the White House and on Capitol Hill has been the immigration crisis, which not only causes massive detentions and deportations, but has also been the cause of humanitarian crises and deaths, many of them occurring under the most minimal conditions.
Last June, a trailer was found on the outskirts of the city of San Antonio in which 50 migrant corpses were lying, having died of asphyxiation, heatstroke and starvation.
Texas state authorities reported that the truck was driven by a human trafficker, who after realizing the mass death of migrants, fled.
According to local media, the trailer did have a refrigeration system, but it was either not working or had not been activated.
Smugglers, better known as polleros in the U.S.-Mexico border area, usually charge migrants a sum of money in exchange for transporting them illegally to the U.S. side of the border. However, on many occasions, the smugglers trick them and abandon them on desolate roads or in desolate places far from cities.
In September 2022 alone, U.S. Customs and Border Protection apprehended 78,000 migrants from Venezuela, Cuba and Nicaragua. The rest were mostly from Mexico, El Salvador, Honduras and Guatemala.
The waves of Venezuelan migration have increased due to Venezuela's economic instability, triggered by U.S. sanctions against Caracas. However, when Venezuelans arrive on U.S. soil, they encounter many obstacles to entry.
US immigration authorities returned more than 1,700 migrants from Venezuela to Mexican territory in four days following the decision of Joe Biden's government to apply Title 42 and expel those who enter illegally, according to Mexican Foreign Minister Marcelo Ebrard.
On October 12, the Department of Homeland Security approved a new scheme that will allow Venezuelan migrants to benefit from special protection, as long as they have a sponsor in that country or arrive by air. Under this new plan, the Biden administration will return to Mexico those who cross the border between the two countries illegally.
One day after its entry into force, the United States deported a first group of Venezuelan migrants who entered through the southern border. Since then, videos of Venezuelan migrants returned to Mexico have been circulating on social networks, describing the new immigration policy as unfair.
The United States returns between 340 and 450 Venezuelans to Mexico per day, according to data from the authorities of the Latin American country.
---
CELAC Demands US to Remove Cuba From Terrorist Sponsors List
27 October 2022
At the end of their 23rd meeting in Buenos Aires, the Foreign Affairs Ministers of the countries belonging to the Community of Latin American and Caribbean States (CELAC) demanded that the United States exclude Cuba from the list of State sponsors of terrorism.
They renewed their commitment to defend the sovereignty of the Latin American countries by demanding the elimination of all threats, aggressions, and unilateral coercive measures that are contrary to international law.
The CELAC countries reiterated the call of the United Nations General Assembly (UNGA) to end the economic, commercial and financial blockade against Cuba, a US policy established 6 decades ago that causes serious damage to the well-being of the Cuban people.
They also reiterated their rejection of the U.S. unilateral lists and certifications that affect Latin American countries. Among those is the list of States that allegedly sponsor terrorism.
The participants in the Buenos Aires meeting expressed their interest in overcoming poverty and inequalities through social, economic, productive, cultural, and environmental integration.
They proposed holding a meeting of economy ministers in order to design a common agenda that can respond to the global crisis fueled by the Ukrainian conflict.
In their final declaration, the CELAC foreign affairs ministers also highlighted the importance of addressing the drug problem from a health policy perspective and the need to strengthen South-South cooperation mechanisms.
In order to face the impacts of climate change, they also proposed strengthening CELAC's Fund for Climate Adaptation and Comprehensive Response to Natural Disasters.
---
Cuban Parliament Demands Elimination of the US Blockade
27 October 2022
"The real reasons for this economic war have been to prevent the success of the Cuban socialist project," Deputy Foreign Minister Fernandez pointed out.
On Thursday, the Cuban Parliament rejected the U.S. blockade during a public hearing in which foreign legislators were present.
Under the slogan "Better without blockade", the lawmakers gathered at the Havana Capitol to denounce once again the disastrous consequences of a foreign policy that the United States has been maintained for the last six decades.
"The pretexts for applying the blockade have varied over the years," Deputy Foreign Minister Carlos Fernandez recalled, adding that "the real reasons for this economic war have been to prevent the success of the Cuban socialist project."
Regarding the exclusion of Cuba from the U.S list of "States sponsors of international terrorism," Fernandez recalled that his nation can do little about the U.S. political realities allowing the perpetuation of such an unjust definition. "What is up to us is to speak out and fight against it," he said.
In the session of the Cuban parliament were foreign lawmakers such as Spain's MEP Manu Pineda, Bolivia's Lower House President Freddy Mamani, Colombian Senator Gloria Florez, and Mexican Senador Beatriz Paredes.
This international event happened one day after the start of the Cuba-United States Business Forum that is taking place in Havana for the first time since 2016.
On that same day, Cuban President Miguel Diaz-Canel met with international investors and pointed out that his country is "open" to dialogue with the United States, but in conditions of equality and with respect for his nation's sovereignty and integrity. Reference
---
Lula Pledges to Rescue Brazil From Hunger and Poverty
27 October 2022
In an open letter entitled "Letter to the Brazil of tomorrow," former Brazilian President Luiz Inácio Lula da Silva (2003-2011) promised on Thursday that if elected, he would fight against hunger and poverty in his country and would develop a responsible fiscal policy.
"The first measures of our government will be to rescue 33 million people from hunger and to rescue more than 100 million Brazilians from poverty. Democracy will only be true when the entire population has access to a dignified life, without exclusions", says the message.
The text lists thirteen proposals for the reconstruction of the country, among which are the commitment to economic growth, job creation and investment in health and education.
In terms of economic development, the candidate of the Workers' Party (PT, left) reiterates that one of the first initiatives will be to resume the paralyzed works.
"We will seek financing and cooperation - national and international - for public and private investment, to boost and expand the domestic consumer market, develop trade, services, food agriculture and industry," says the former president.
Lula also pledges to combine responsible fiscal policy with social responsibility and sustainable development.
"Responsible fiscal policy must follow clear and realistic rules, with multi-year commitments, compatible with facing the social emergency we are experiencing and with the need to reactivate public and private investment to pull the country out of stagnation," he says.
On the other hand, the former president assures that his government will build a national strategy to move towards the knowledge economy.
"Brazil does not need to depend on imports of respirators, fertilizers, diesel, or gasoline. There is no need to depend on imports of microprocessors, satellites, aircraft and platforms. Our country has a potential that should be enhanced in software, defense, telecommunications and other new technology sectors," he says.
In the letter, Lula also criticizes the current President, Jair Bolsonaro.
"Brazil can no longer be in the hands of those who admire military dictatorship and idolize monstrous torturers. Brazil cannot be left in the hands of people who question our electoral process, seeking to create conditions for coups and totalitarian adventures," says the PT candidate.
Lula also stresses that next Sunday's election is not just any election.
"What is at stake is the choice between two completely different projects for Brazil. One is the country of hatred, lies, intolerance, unemployment, low wages, hunger, weapons and death (...) and the other is the country of hope, respect, employment, living wages, decent retirement, rights and opportunities for all", says the presidential candidate.
The runoff between Lula and President Jair Bolsonaro will take place next Sunday, October 30 and, for the moment, the leader of the left is slightly ahead in the polls.
---
CPS solidarity with New Communist Party of Yugoslavia following attacks on their headquarters by Neo-Nazis
27 October 2022
The Communist Party of Swaziland (CPS) conveys its message of solidarity to the New Communist Party of Yugoslavia (NKPJ) following the biggest attack on its headquarters in Belgrade by Neo-Nazis. The CPS also stands in solidarity with the working class as the attacks on the Communist Party is at one and the same time an attack on the working class as well as their rights and struggles.
Last year, reactionary forces attacked the headquarters of the NKJP five times, the latest being the biggest. There is therefore a clear agenda to destroy the work of the communists and the working class, with the capitalist regime helping the attacks. The rise of neo-Nazism has been supported largely by the powerful capitalist states especially in the West, spreading capitalist propaganda against communists while at the same time rehabilitating well-known fascists.
The CPS calls for the forging of the greatest unity among forces of the left across the world in the struggle for the freedom of the working class and all oppressed. The CPS will continue to make its contribution to the struggle to overthrow the ruling regime in Swaziland, a puppet of imperialism, towards democracy, and also make its contribution to the building of the Africa Left Networking Forum in the context of deepening and broadening the unity and strength of the working class across the world.
Issued by the Communist Party of Swaziland
---
Former SNAT President Meshack Kati Masuku dies
26 October 2022
Meshack Kati Masuku, the former President of the Swaziland National Association of Teachers(SNAT) has died.
Masuku was among the political leaders and trade unionists who led the historic 1996-1997 strike action that shook the foundations of the Tinkhundla system of governance.
It was in the midst of that Khukhulelangoco strike action that saw King Mswati threatening to unleash his emabutfo to defend his Throne.
The King was angered by sentiments of the trade unionist and political leaders who told him to go on leave.
"I have been told to come and say Goodbye to you, Mswati cannot do that and if it calls for us to use other means, we will do that," said the King when dispersing his regiments(emabutfo) at Engabezweni in January 1997.
Due to Masuku's vibrancy and the impact he made as SNAT President when demanding a salary increment for teachers, members of King Mswati regiments (emajaha) composed a song titled "Ye-Kati Masu…ku waze wakhalela intwe-ncane kwaze kwabhubha umhlaba".
The song was sang by emajaha when doing kukosha (traditional dance) at Mfabantfu royal field in January 1998 after the KhukhulelaNgoco strike action
Efforts to reach Masuku's family proved unsuccessful at the time of compiling this report.
Reached for comments, former SNAT President Sibongile Mazibuko confirmed the death of Meshack Kati Masuku.
"It's true that Kati Masuku is no more, I was working with him as SNAT National Treasurer when he was SNAT President.He was also the NNLC Deputy President when Obed Dlamini was the President,he groomed me to be what I am," said the NNLC President.
---
FEMALE COMMANDER: We kill those who committed major crimes against Swazis, burn properties for minor 'offences'
27 October 2022
"Sometimes we burn your property and leave you alive, depending on the magnitude of what you did to Swazis during and after the June 29 political unrest".
These were the sentiments of the female Commander of the Swaziland International Solidarity Forces(SISF) when speaking to this Swaziland News on Thursday.
The Commander said there were high profile people who owned multi-million properties, however, she said they were not interested in burning those properties if they committed serious crimes against the Swazis in the midst of the political unrest.
"I would make an example, if the person was commanding the security forces that killed civilians, you cannot just burn their property and leave them alive. At times we arrive and just burn their properties as a warning without killing them if we feel they committed a minor offence. But we can still come back and kill them if they continue. Ngeke nje utsi ubulele emaSwati kangaka bese sitsi sitakushisela nje kuphela," said the female Commander.
Dozens have been killed by Mswati's security forces since the political unrest started in June 2021.
On another note, the female Commander said they were also monitoring certain people who targeted political leaders on behalf of Mswati. Reference
---
Mozambique: Fear and Displacement Continue After Five Years of Conflict in Cabo Delgado
26 October 2022
Almost one million people are currently displaced in northern Mozambique after fleeing their homes in search of safety, due to the conflict that started in Cabo Delgado province in October 2017.
Many people have been displaced multiple times, forcing them to abandon their few possessions, means of survival, loved ones and communities during each displacement. Living through such a prolonged conflict, with little to no prospect of a stable future, comes with profound mental health consequences.
Five years on, some communities in Cabo Delgado are still living in constant fear and continue to experience trauma and loss. Many have witnessed murder; others have lost contact with their relatives and still don't know where they are.
"We're separated from our family and the rest of our people," says a community leader from Mocímboa da Praia, a district in northern Cabo Delgado. He has had to start from scratch time and again, and currently lives in a temporary settlement in the district of Palma.
"Sometimes we hear about a sick family member, but we have no way to visit them," he says. "Sometimes we hear someone's passed away, but we can't get to them. Every day that goes by, we get sadder about it."
Tatiane Francisco, Médecins Sans Frontières (MSF) mental health activity manager, says that acute stress and anxiety due to uncertainty and lack of prospects, as well as loss and grief, are the main reasons people are seeking mental health consultations at our projects.
"When you're constantly under this fear, it's hard to think about the future, it's hard to plan things. You're still living in survival mode. People have been living in a kind of limbo for years now."
Maria, an elderly woman from Ancuabe, arrived in the city of Montepuez in July following an outbreak of violence that uprooted more than 80,000 peopleOCHA Situation Report - Displacement influx in Cabo Delgado and Nampula, Mozambique, 1 June to 21 July 2022 - OCHA Situation Report - Displacement influx in Cabo Delgado and Nampula, Mozambique, 1 June to 21 July 2022 - over a few weeks.
"When the war broke out, we all ran in a different direction," says Maria. "I arrived here alone with a child I found on the way. His father was shot dead. His mother was kidnapped. I'd like the war to be over so we can go back to our land."
Like Maria, many people dream of returning home and rebuilding their lives as farmers, fishermen and community members. However, uncertainty, fear and trauma make it difficult to return to normal life.
"Right now, in different parts of the province, there are people both returning to their places of origin and people forced to flee and being displaced again," says Tatiane Francisco, MSF mental health activity manager. "There may not be violence where some people are, but to them, nothing guarantees that this won't change in the future.
In addition, extreme violence often leaves painful psychological scars for those who have suffered from it.
"Some people have the courage and desire to go back to where they are from, but others, because of the kinds of events they have experienced, prefer not to risk going back until they are sure things are good," says Josuel Moreira, MSF psychologist in Palma.
"This shows us that both the experiences, as well as the feelings associated with these past experiences, are vivid and people still carry them. You can't even call it post-traumatic stress; the trauma is still there."
As the conflict in Cabo Delgado carries on, these mental health issues, as well as access to basic services, such as healthcare, water, food and shelter, remain a struggle for many.
Our teams have been working in response to the crisis in Cabo Delgado since 2019. In 2021 alone, our teams treated more than 52,000 malaria cases, conducted almost 3,500 individual mental health consultations, and provided group mental health activities for 64,000 people.
Due to the volatile and constantly changing context, our teams have had to be flexible and adaptive. Humanitarian assistance is disproportionally distributed in Cabo Delgado, with more assistance being provided in the south of the province, which is considered to be more stable.
In some of districts where we work, such as Macomia, Palma and Mocímboa da Praia, often no or very few other organisations have a regular presence. More needs to be done so people in hard-to-reach areas have access to lifesaving support.
"Many people have not only lost their possessions and their families, but have also lost their sense of dignity," says Moreira.
MSF has a long history in Mozambique that dates back to 1984, during the Mozambican civil war. In Cabo Delgado, our teams currently conduct projects in Macomia, Mocímboa da Praia, Palma and Mueda and neighbouring districts through mobile clinics, such as Muidumbe, Nangade and Meluco. Our support involves general healthcare consultations, mental health services, water and sanitation improvements, specialised healthcare support to local hospitals and the distribution of emergency relief items kits. Reference
---
When Migrants Vanish: Families Quietly Endure Uncertainty
26 October 2022
Zimbabweans cling to hope even after years of silence from loved ones who have disappeared across borders.
lessing Tichagwa can barely remember her mother. Like hundreds of thousands of Zimbabweans, Noma Muyambo emigrated to South Africa in search of work, leaving baby Blessing, now 15, behind with her grandmother.
The last time they saw her was nine years ago, when Blessing was 6. Muyambo returned for one week, then left again — and has not sent any messages or money since.
"She promised she would return in April 2021, but she never did," the teenager says. "Even her phone number doesn't go through."
Porous borders make it easy for Zimbabweans to emigrate — but this freedom of movement can also lead to tragic consequences. Of the millions who have left for South Africa and other neighboring countries since 2000, an unknown number have vanished: buried as unidentified bodies or silenced by illness, injury, detention, trafficking, economic insecurity or communication challenges.
"Some drown in rivers or are attacked by crocodiles, and others are victims of foreign hostility," says Ario Memory Mugwagwa, public relations officer at Zimbabwe's Department of Immigration.
Marie-Astrid Blondiaux, a coordinator for the International Committee of the Red Cross in Southern Africa, confirms that the number of Zimbabweans reported missing after migrating has been rising — including cases that are now more than a decade old. Families don't know where to begin when their loved ones disappear in another country, she says, and most migrants haven't prepared for communication challenges and emergency situations.
"I would advise migrants, including children, to learn by heart key phone numbers and to agree on a meeting point in case of separation," she says. "You should also keep your family regularly informed about your whereabouts, especially when crossing a border. Tell them when you have reached your destination. Let them know you are safe and well, even if you don't intend to maintain the contact in the longer term."
The International Organization for Migration, a United Nations agency, also cites lack of documentation as part of the problem. In South Africa, home to Zimbabwe's largest diaspora community, more than 84% of the estimated 1.7 million Zimbabweans are undocumented, according to 2018 data collected by FinMark Trust, a South African nonprofit focused on financial inclusion. Inefficiencies and bureaucratic delays in passport applications, immigration control and border management mean that "even Zimbabweans with access to legal documentation resort to crossing the border into South Africa irregularly," states a 2021 report by the IOM's Missing Migrants Project.
Since her mother moved to South Africa, Blessing Tichagwa, 15, has lived with her extended family in Zimbabwe. She has not seen or heard from her mother in nine years. Photo-Audio by Linda Mujuru, GPJ Zimbabwe
Across Africa, the ICRC's missing persons caseload had reached nearly 44,000 people in 2020, including migrants. The IOM's Africa database has collected more than 11,000 cases of missing migrants since 2014, compared to fewer than 7,000 cases in the Americas during the same period.
Officials from both agencies agree these numbers only represent a fraction of a wider, undocumented humanitarian tragedy — one that reverberates globally, from Mexico to Myanmar, as migrants flee violence, poverty and natural disasters. For the families left behind, their grief and economic struggles from losing a breadwinner are compounded by judgment from neighbors and peers until they can confirm the fate of their loved one.
Lainah Guyo, 67, says she hasn't heard from her daughter Deline in more than 15 years, since the young woman left Harare to seek employment in Johannesburg, South Africa.
"It's a painful experience for me. I don't know whether she is alive, or married, how she is living and whether she is well," Guyo says tearfully.
Lainah Guyo holds a photograph, taken in 2004, of her and her daughter Deline in Harare, Zimbabwe. She has not seen or heard from Deline since her daughter moved to South Africa in 2005.
All she has left are old photographs and memories, and occasional words of comfort from her niece, Resta Jengwa. She traveled to South Africa with Deline but says they went separate ways soon afterward.
Although she has been unable to track down her cousin, Jengwa says long silences don't necessarily mean something bad happened.
"For some, they don't keep in touch with their family because they don't want to be burdened by family problems back home and they just want to live their lives on their own," she says. "While for others, it's the issue of not having requisite documents like work permits, and if they go back home they might not be able to return for work."
In 2016, the ICRC launched a pilot project to work with Zimbabwean families with loved ones believed to be missing in South Africa. Investigators found 47 migrants alive and helped them reestablish communication; 106 were identified among the thousands of "unknown" bodies in South Africa's mortuaries and cemeteries. Today, the agency advises families to report missing migrants directly to the Zimbabwe Republic Police, which is working with South African authorities to continue these investigations.
In rural Masvingo, Conilia Chiwidziriro held out hope for nearly 20 years that her son George Chiremba would resurface after disappearing in South Africa. In 2016, she learned of his death from a friend who had witnessed the violent attack that killed him, but until the ICRC project confirmed the report last year, she preferred to blame his silence on the region's poor infrastructure.
"When he left, there were no phones to communicate, only letters," she says. "But he never sent one."
Her grandson George has followed his namesake's footsteps to South Africa but remains in contact.
"It pains me that I never met him, but I realized that there is nothing I can do about it," he says of his father, by phone. "If he was around, maybe I could have finished school and had a better life, but I also had to come to South Africa to look for better opportunities and a better life."
Some families get good news after years of searching. Cosmas Mafusire stopped responding to phone calls and emails from his family shortly after migrating to South Africa with his wife and son in 2007, but with help from the ICRC in 2019, he reconnected by phone with his niece, Marcia Mafusire. He blamed economic difficulties for his 12 years of silence, she says.
"We had a feeling that he was going through something because there was no way he would abandon us intentionally," she says. "He was a breadwinner in the family."
While rare, stories like this give hope to other families of missing migrants — even those who have been missing for more than a decade.
Although she has not heard from her mother in nine years, Blessing Tichagwa, 15, still dreams that she will return from South Africa so they can live together as a family.
More cooperation and coordination between governments could help, says Julia Black, IOM Missing Migrants Project coordinator. She recommends that countries work together to provide safe, legal immigration avenues while also developing more efficient and empathetic procedures to investigate missing migrant cases.
"In Zimbabwe, the state must develop a multipronged national strategy to prevent further deaths and disappearances, improve search strategies and support families of the missing," she says.
Jane Muyambo, Blessing's aunt, says they have four family members unaccounted for outside of Zimbabwe. Three of her sisters, including Blessing's mother, vanished after leaving for South Africa more than a decade ago. Her only son, Ronald Razerera, disappeared at age 19, after crossing into Botswana 18 years ago.
"It's painful. It's hard for me to accept that I may not find or see him again," she says. "Some nights, I hardly sleep and I get stressed from thinking about him."
Blessing worries for her own future. Her mother's fate remains unknown, and her birth father has never acknowledged her. For now, she lives with a cousin in Harare, but an aunt has urged her to leave school and return to their village to care for the grandmother who once cared for her.
"I envy other children when they are with their parents," Blessing says. "This is something that may never be for me."
Linda Mujuru Reference
---
UAE imposes visa ban on Nigeria citizens, rejects applications
23 October 2022
The letter asks firms to inform their clients they might be able to resubmit their application at a later date once the issue between the governments of the UAE and Nigeria has been resolved.
The UAE immigration authorities announced on Friday a visa ban on Nigerians looking to enter the country, adding that all submitted applications had been rejected with fees non-refundable.
According to a notice issued to its trading partners in Nigeria which includes travel agents, authorities in the emirate of Dubai declared that "All Dubai applications submitted are now rejected. It is general for Nigerians and approvals are on hold at the moment."
"Kindly advise your clients to resubmit C2=A0 applications when the issue is resolved between both governments."
The announcement comes over a month after the UAE stopped issuing tourist visas to Nigerians under the age of 40, except for those applying for family visas.
Although no specific reason was given behind the Gulf state's decision, it may be related to a diplomatic row between the two countries from last year when Nigerians were barred from applying for work permits and had visa restrictions imposed on them.
According to Business Insider, there have also been instances of Nigerians stranded in the country with some "subjected to degrading situations. Most notable when the Covid-19 pandemic hit."
Earlier this month, a Nigerian woman was sentenced to one year in prison after a picture she posted on Twitter in August went viral on social media showing how she along with other Nigerian nationals were being detained at Dubai international airport despite claiming to possess valid visas. Reference
---
Israel hands 4-year jail term to Palestinian footballer
27 October 2022
An Israeli court has sentenced Palestinian footballer Tareq Al-Araj to four years in prison and ordered him to pay a fine of 4,000 shekels ($1,145), the Palestinian Information Centre reported.
According to Asra Media, occupation forces (IOF) kidnapped Al-Araj, a national youth football player and a member of the Jenin Sports Club, on 5 September 2020 at a makeshift checkpoint near Jenin City, and then took him for interrogation to the Petah Tikva detention centre where he stayed for about one and a half months.
The four-year prison sentence was issued after his trial was postponed more than 17 times. He was accused of being a member of a banned group and participating in resistance activities against the occupation state of Israel. Reference
---
Israel storms Jerusalem schools in search of Palestinian curriculum
27 October 2022
Employees of Israel's Ministry of Education yesterday stormed several schools in the occupied city of Jerusalem, searching students' bags for books which follow the Palestinian curriculum.
Eyewitnesses told the Safa news agency that ministry's employees stormed the three premises of Al-Eman Primary School in occupied Beit Hanina, north of Jerusalem, in search of the books. Students were left terrified as a result of the raid, reports said.
Although the school principals asked the occupation officials whether they have an order upon which they were authorised to storm and search the school grounds, the Israelis did not respond and continued with their operation.
Al-Furqan School in Shuafat was raided at the same time. Reference
---
The Lions' Den Offers Details of What Has Actually Transpired in Nablus
27 October 2022
On Monday, Israeli forces killed five Palestinians and wounded at least 21 in a major assault on the Old City of Nablus, in the occupied West Bank.
Two completely different narratives emerged regarding the events which led to the killing of Ali Khaled Antar, Mishal Baghdadi, Hamdi Qayyem, Hamdi Mohamed Sharaf, in addition to Wadee al-Hawah, one of the leaders of the Areen Al-Ousoud (The Lions' Den) resistance group.
At an army ceremony, Israeli army chief Aviv Kochavi said that the army "has been waging war in the West Bank, over the past seven months", claiming that Israel had "thwarted hundreds of operations."
On Monday, Israeli Prime Minister Yair Lapid and Defense Minister Benny Gantz announced that they will continue to search for members of the Lions' Den group, and that "their fate will be either prison or the grave."
However, in a statement released on Wednesday, The Lions' Den revealed more details about the Israeli army raid in Nablus, which mostly contradicts the account of the Israeli army.
The Lions' Den Statement
"On the night of the storming (of Nablus), the leadership of the Lions' Den convened, having received security information and estimates that the Israeli occupation's operation targeting the Lions' Den, in which Lapid and Gantz would achieve electoral achievements, was drawing near," the statement read.
According to the statement, the group's commanders decided to mobilize the fighters and lured Isreali soldiers inside the Old City. Their fighters were reportedly able to strike Israeli soldiers from several different positions.
In its statement, the group indicates that there was a 10-minute time interval between the Israeli occupation forces' arrival and the withdrawal of the group leader, al-Hawah. According to the group, however, logistical difficulties made it impossible for al-Hawah to leave the area, leading to his death.
The statement also revealed that the Lions' Den's fighters outside the area had already located the Israeli special forces unit that entered Nablus prior to the arrival of regular army forces. "In every true sense of the word, that special unit was eliminated," the group asserted, "as it came under heavy fire" and fell into the trap of "previously planted explosives".
The Lions' Den statement continued by explaining that the Israeli army's operation was, in actuality, focused on the rescue of its troops. And having failed to achieve any of its objectives, it bombed a house. By the time of their withdrawal, they had failed to capture the leadership of the Lions' Den, obtaining no useful data or any equipment.
The Lions' Den also explained that the Israeli army's declared objectives of targeting a 'lab', belonging to the Resistance, was a 'lie'.
"We challenge the Zionist occupation to broadcast the .. video of the entire operation – but, … you will not do so," the statement added.
In a message to the Palestinian people, the Lions' Den said that "Our fighters were hearing your support, your voices, … which only made us more determined."
---
Russia Sanctions European CEOs Supplying Arms To Ukraine
25 October 2022
"Any unfriendly action by Western countries will receive a timely and adequate response in the future," the Russian diplomacy stressed.
On Tuesday, the Russian Foreign Affairs Ministry announced that its country will establish sanctions against top executives of European defense and arms companies that supply weapons to Ukraine.
This decision is a reply to the sanctions that the European Union (EU) adopted against Russia on Oct. 6, after Donetsk, Lugansk, Kherson, and Zaporizhia decided to join the Federation.
The Russian diplomats stressed that the European sanctions, which aim to contain the economic development of their country, are "unilateral" and "illegitimate" since they undermine the norms of international law related to the self-determination of peoples.
They also accused the European Union of "ignoring for many years" the discrimination and extermination of the Russian-speaking population in those republics and regions.
The Russian sanctions will also affect members of the European Council Parliamentary Assembly who passed an anti-Russian resolution in mid-October. In addition, Moscow decided to expand the list of EU representatives who are prohibited from entering Russian territory.
"We insist that any unfriendly action by Western countries will receive a timely and adequate response in the future," the Russian Foreign Affairs Ministry stressed.
Previously, in their eighth package of sanctions against Russia, the Europeans included a provision according to which Russian fuels can only be transported internationally if Moscow agrees to sell its energy products at or below the fixed price.
---
Russian President Rules Out Use of Nuclear Weapons in Ukraine
25 October 2022
"Humankind faces a choice: accumulate a load of problems that will inevitably crush us all or try to find solutions that may not be ideal but working," Putin said.
On Thursday, Russia's President Vladimir Putin ruled out that his country would use nuclear weapons in the conflict with Ukraine.
"It makes no political or military sense for Russia to launch a nuclear attack. The thesis about the use of nuclear weapons by Russia is primitive and the Western powers are only looking for more arguments to confront Russia," he said.
However, "whoever sows wind will reap storms," Putin warned, blaming the West for having taken steps to escalate the conflict and destabilize global food and energy markets.
He also emphasized that the countries are currently faced with the dilemma of continuing to promote the usual scenarios or find answers to long-standing conflicts.
"Humankind now faces a choice: accumulate a load of problems that will inevitably crush us all or try to find solutions that may not be ideal but working and could make the world more stable and secure," he said, as reported by Politico.
These statements were made at the annual meeting of the Valdai Club, a forum for the discussion of international affairs where Putin reiterated the need to work towards the construction of a multipolar world.
There he recalled that the United States has been the only country that has used the atomic bomb, killing thousands of people in the Japanese cities of Hiroshima and Nagasaki in 1945
---
WHO Warns Europe About COVID-19 and Flu Surge
24 October 2022
Europe is the epicenter of the COVID-19 pandemic, accounting for 60 percent of the global cases.
Amid the co-circulation of "COVID-19 and seasonal influenza," the Regional Office for Europe of the World Health Organization (WHO) called upon the importance of vaccination schedule compliance.
WHO Regional Director Dr. Hans Kluge warned today at a press conference about the increased health risk posed by the co-circulation of COVID-19 and seasonal influenza to vulnerable people: "the elderly, the immunocompromised, pregnant women and newborns."
Kluge said, "This is no time to relax," noting that, according to WHO Europe, the region is the epicenter of the COVID-19 pandemic, with 60 percent of global cases and 42 percent of new global deaths in the second week of October.
The official also referred to the increased number of patients with seasonal flu observed in the last month. In this context, there have been a slight increase in intensive care unit (ICU) admissions, Kluge said.
"We must continue to do all we can to prevent infections, protect vulnerable people and prepare our health systems to manage multiple threats," said the Regional Director.
On World Polio Day, the 20th anniversary of its eradication in the European region, Kluge called attention to the need for vaccination. "Vaccines are safe and vaccines work. In the case of polio, as with COVID-19 and influenza, vaccines can and do save lives."
As for COVID-19, "the other main policy responses are continued surveillance and ensuring access to antivirals for at-risk populations."
---
Crisis in the UK Regime: From a Summer to a Winter of Discontent?
23 October 2022
Facing deep political and economic turmoil, Prime Minister Liz Truss has resigned after just 45 days in office. This new crisis comes as workers across the UK are preparing for a new wave of strikes against the rising cost of living.
Just six weeks after taking office, Liz Truss resigned as head of the Conservative Party, the third UK prime minister to step down in as many years. In recent weeks, a growing number of Tory ministers had been calling on her to resign following the economic turmoil set off by her proposed economic adjustment plan. The final blow to the Truss regime came with the one-two punch of her sacking her finance minister and close ally, Kwasi Kwarteng, and receiving the resignation of Home Minister Suella Braverman. Although she had vowed to stay and fight, quoting the architect of Tony Blair's neoliberal reign and saying she was not a quitter but a fighter, the chips were hard to consolidate.
How Did We Get Here?
Following Prime Minister Boris Johnson's resignation on a slew of ethics violations, Truss was selected as PM by the Tory majority, inheriting a regime that is in deep economic, social, and political crisis. For Britain, the organic crisis that began with Brexit has only deepened in the years that followed, especially with a slow post-pandemic recovery and the war in Ukraine, which has deepened inflation and the cost of living crisis, mobilizing hundreds of thousands in workplaces and in the streets. Taking office only a couple of days prior to Queen Elizabeth's death, Truss represented the return of Thatcherism — of using the classic tools of neoliberalism to quell the economic and social unrest marring Britain. In just a few short weeks, however, her proposed plans exacerbated the very problems she promised to fix, which culminated in last week's theater.
For Truss, the key to solving the economic crisis — as was the case with Thatcher, Reagan, and other champions of neoliberalism — was to lower taxes on the rich and deregulate the economy which would, in turn, encourage capital investment in a "trickle down" effect. On September 26, Kwarteng announced a "mini budget" which offered around £45 billion ($50 billion) in corporate, income, and payroll tax cuts to the wealthy, and £60 billion ($67 billion) in energy spending support. This move sparked concern — even from the IMF — that with no way to pay for these tax cuts, public borrowing would increase and ultimately worsen the Britain's cost of living crisis. The markets reacted poorly to the decision: soon after it was announced, the pound plummeted in value, experiencing its biggest single-day drop since March 2020. In order to control this spiraling crash, the Bank of England intervened to rescue the pension funds and avoid bankruptcy.
Given the reaction of the markets, Truss withdrew the plan and backed away from the tax cuts — but the damage had already been done. The failure of the economic adjustment plan had reopened a crisis within the Conservative Party, with a sector of the party pursuing a vote of no confidence against the Truss administration. Kwarteng and Braverman's departures were the final blow. Now, as Truss is out, many across the different factions of the Tory party are vying to be nominated and selected for the top position, while the Labour Party under the leadership of Keir Starmer is calling for early elections.
A Britain in Turmoil
The crisis of the political regime must be seen in the larger context of the crisis of neoliberalism post-2008 and the organic crisis that opened in the UK over six years ago with the triumph of Brexit.
The crisis of 2008 opened a structural crisis for capitalism the world over, especially in imperialist cores such as the U.S. and UK where neoliberalism was most successful. In the 1980s, Thatcher, with a mantra of "free economy and strong state," advanced a period of neoliberal growth that was based on the strategic defeat of the British working class, most notably through the state's defeat of the 1984 miners' strike. Over the next years, until she was ousted in 1990, Thatcher would promote free enterprise, implementing huge public spending cuts and privatizing many state-owned industries.
Even after her retreat, neoliberalism as an ideology continued to flourish, and the successive Labour government under Tony Blair advanced and intensified much of Thatcher's policies in the economic arena. These decades marked the destruction of the post-war British welfare state and a liberalization of the economy, complete with the privatization of key industries, including the Royal Mail.
But this cycle of accumulation began to show signs of exhaustion by 2008. The Great Recession marked the biggest economic crisis since the Great Depression. The state responded by bailing out the rich while leaving the working class to dry. In the UK, as in the rest of the world, this meant austerity for working people, while bailouts and stimulus were given to save banks and institutions deemed too big to fail. In the period since, neoliberalism has been unable to find satisfactory motors of growth, especially as productivity has struggled to reach pre-2008 levels. Although unemployment has been low, wages have failed to keep up with inflation, which is having devastating consequences now for the working class.
The inability of the regime to find a way out of this crisis created the conditions for Brexit and the social, economic, and political crises that have plagued the UK since. As even former Labour MP Alistair Darling noted, "I don't think Brexit would have happened if it hadn't been for the political and economic events of the proceeding 10 years. People were disillusioned. They felt badly treated. They felt squeezed." Led largely by right-wing and far-right forces, the Leave campaign's victory exposed the deep polarization — political, economic, social, geographic, and cultural — that had developed during the decades of neoliberalism.
But, as we continue to see, the organic crisis that began with Brexit is yet to be resolved, especially as the structural crisis continues to deepen in a post-pandemic era. The regime not only has to grapple with the political and economic consequences of leaving the European Union, facing the possibility of a trade war with the EU over the status of Northern Ireland — it is also experiencing a labor shortage due to restrictions on freedom of movement. These economic and geopolitical challenges have been further exacerbated by the consequences of a pandemic that have wrought global supply chains and have made economic recovery particularly hard, as well as a war in Ukraine which has steeply driven up energy prices. All these factors together have created an unprecedented cost of living crisis in the UK: inflation is almost at 10 percent, and energy and food prices are through the roof. The crisis of the Truss administration only marks the latest chapter in a longer period of turmoil for the regime, one with deep roots in the crisis of neoliberalism.
The Working Class on the Scene
Most notably, this chapter of social, economic, political crises is happening against the backdrop of increased activity among the masses and especially in the ranks of organized labor, the likes of which it hasn't been seen since the Thatcher years. In what was dubbed the "summer of discontent," workers across key sectors such as logistics, transport, healthcare, and education have gone on strike to demand better conditions as well as wages that keep up with inflation.
Although interrupted by Queen Elizabeth's passing and the period of mourning, workers have since picked up rumblings of strike activity to fight against decades of austerity. In recent days, over 400,000 healthcare workers have begun to vote for a strike authorization that could see one of the biggest healthcare workers' strike in the UK since the 80s. Rail workers with the RMT who had struck earlier in the summer are gearing up for another strike in the next month, and are getting ready to fight the state's intervention to keep minimum rail service running during the time. Notably, unions are now pressuring the Trade Union Congress (TUC) to call for coordinated strike activities across sectors going into this winter.
This is happening while hundreds of thousands across the country have also ramped up the fight against inflation. Over 200,000 people signed a petition with the Don't Pay UK campaign calling for a national boycott of the payment of consumer energy bills going into winter to protest against the astronomical energy prices. And earlier this month, hundreds of thousands mobilized nationally for a day of action as part of the Enough is Enough campaign geared towards addressing the cost of living crisis.
Following Truss's departure, many scenarios emerge for the future of the ruling Conservative Party and, by extension, the regime. Several challengers have already lined up as successors, including Rishi Sunak, who came second place to Truss in the last selection, and possibly even Boris Johnson. For any Tory successor, the task of restoring party unity to bring stability to the regime will be central.
Meanwhile, the Labour Party has been attempting to make the most of this crisis. However, while it positions itself as the only solution out of this crisis, it is also positioning itself as the party of Tony Blair, and represents little more than liberalism in a different form. While Labour has always represented a way for the regime to contain the interests of the working class within the bounds of a capitalist, imperialist state, Starmer's Labour, in particular, is a roadblock for the working class, even as it pretends otherwise.
Since becoming head of the party, Starmer has purged its left wing and consolidated the party around the interests of its right wing, and has no interest in reversing the attacks on the working class. In fact, as strikes broke out over the summer, the Starmer leadership instructed its MPs against going to picket lines in solidarity with striking workers.
For the state, it is going to be essential to manage the political and economic situation whilst containing class struggle as it looks for a way out of this crisis. In this task, both parties of the regime have shown that they are no friends of the working class. Across Britain, however, hundreds of thousands of workers and young people are rising up against the products of decades of neoliberal austerity. With one in seven people skipping meals and almost half the people in the UK cutting back on heating, hot water, and electricity because of the cost of living crisis, workers are redoubling their efforts to win wage increases that keep pace with inflation.
Although still in incipient stages, the working class is entering the scene as a political actor, fighting against the structural crisis with its own methods. For living wages and work conditions, for the right to safe housing, healthcare, and nutrition, and against any form of austerity, it is essential that workers forge and fight with their own independent institutions, continue on the path of class struggle with their own methods, and not pay a single cent for this crisis.
---
ILO to release new report on the impact of economic and geopolitical crises on the world of work
27 October 2022
The International Labour Organization will publish the tenth edition of its Monitor report series that tracks the impact of multiple crises on workers and businesses worldwide.
The International Labour Organization (ILO) will publish the tenth edition of its Monitor report series that tracks the impact of multiple crises on workers and businesses worldwide.
The ILO Monitor on the world of work. Tenth edition will be published on Monday 31 October.
The report provides a global overview of how overlapping economic and geopolitical crises are threatening labour market recovery worldwide and how these crises are fueling the divergence between developed and developing countries. It also analyses the impact of high inflation, tightening monetary policy, increasing debt burdens, and declining consumer confidence on the labour market outlook.
The report also includes the latest data on the impact of the war in Ukraine on its labour market.
---
SADC reiterates call for the removal of sanctions on Zimbabwe
27 October 2022
The Southern African Development Community (SADC) has reiterated its call for the removal of sanctions on Zimbabwe saying it is deeply concerned by the claim that sanctions imposed on the Republic of Zimbabwe by western powers are of a "targeted nature" aimed at unilaterally punishing a few individuals.
In a statement on 25th October 2022, SADC Chairperson and Democratic Republic of Congo President Felix Tshisekedi Tshilombo reaffirmed the 16-member regional bloc's solidarity with the Government and people of Zimbabwe and reiterated calls for the unconditional and immediate lifting of the sanctions that were imposed on Zimbabwean individuals and institutions.
H.E Tshisekedi said the reality of the sanctions is that there is a spill-over and contagion effect on the rest of the country, in particular by imposing a blanket negative perception about Zimbabwe across the world, moreso in the sensitive global financial markets. This perception results in the country being unable to attract the much-needed Foreign Direct Investment, lines of credit and other financial services that are essential to the socio-economic development of the country.
He said this is more concerning given the need for rapid global recovery from at least two years of the socially and economically crippling COVID-19 pandemic which has now been compounded by a general rise in inflation across the world. Zimbabwe, like most developing countries, is particularly vulnerable to these trends and the unilateral sanctions worsen the plight of her economy.
H.E President Tshisekedi said SADC fully supports the conclusion of the UN Special Rapporteur, Ms Alena Douhan, that sanctions have had a significant impact on the population and the Government, exacerbating pre-existing economic and humanitarian challenges. He said SADC welcomes the Report of the UN Special Rapporteur on the Negative Impact of Unilateral Coercive Measures and the Enjoyment of Human Rights.
Ms Douhan visited Zimbabwe in October 2021 to examine the impact of the unilateral sanctions on the enjoyment of human rights in Zimbabwe and on people's right to development. She recommended lifting the sanctions in line with the principles of international law.
SADC, at its 39th Ordinary Summit in Dar es Salaam, United Republic of Tanzania, in August 2019, declared October 25 as the date on which Member States can collectively voice their disapproval of the sanctions through various activities and platforms until the sanctions are lifted.
In his message to mark the day, Zimbabwean President H.E Emmerson Mnangagwa expressed gratitude to SADC and the African Union for the international solidarity the country continues to get in its quest to ward off the sanctions.
The cost to the economy caused by the unilateral and illegal economic sanctions is immense. It is estimated that since 2001, the country might have lost access to more than US$100 billion in bilateral donor support, international commercial loans, and grants and loans from the International Monetary Fund (IMF), the World Bank and the African Development Bank.
H.E President Mnangagwa said the people of Zimbabwe felt humbled by the solidarity demonstrated by both SADC and the AU as well as by progressive forces and organisations who at the recent 77th Session of the United Nations General Assembly called for the immediate and unconditional removal of the sanctions. He noted that while there is no denying the immense drawbacks that Zimbabwe has to endure in pursuit of its national goals, Zimbabweans must appreciate that at the end of the day, they have to see to it that they successfully push their own development agenda.
---
SADC expresses continued commitment to the partnership with IOM
26 October 2022
The newly appointed International Organisation for Migration (IOM) Regional Director for Southern Africa, Mr Ashraf El Nour, presented letters of credence to the Southern African Development Community (SADC) Executive Secretary, His Excellency Mr. Elias M. Magosi, in Gaborone, on 22nd October, 2022.
The meeting presented an excellent opportunity for the two leaders to reflect on the ongoing cooperation as outlined in the Memorandum of Agreement (MoU) which was signed in 2016. The MoU provides for cooperation in areas that include labour migration; counter trafficking; combatting smuggling and irregular migration; addressing mixed migration; migration health; and immigration and border management.
H.E Magosi noted that SADC enjoys a cordial relationship with IOM as one of its highly valued strategic partners. Over the years, the (IOM) has supported SADC at both national and regional levels in areas of policy formulation, evidence-based research as well as capacity building.
So far SADC has benefitted from collaboration with the IOM on the development of the Regional Migration Information Management system (Migration Data) and technical assistance in the development of the Regional Migration Policy Framework and Action Plan 2020-2030.
Furthermore, IOM and the International Labour Organisation (ILO) are actively supporting implementation of the SADC Labour Migration Action Plan (2020-2025) at Member States level, and at the regional level. A SADC Technical Committee on Labour Migration (TCLM), in which IOM participates, has been put in place to oversee implementation of the action plan.
Through the Africa Regional Migration Programme (ARMP), funded by the United States Department of State Bureau of Population, Refugees and Migration, IOM has extended technical and financial support towards the convening of a TCLM meeting scheduled for 26th – 28th October 2022 in Johannesburg, South Africa. The meeting will enable Member States to finalise and submit their country reports on the implementation of the SADC Labour Migration Action Plan.
IOM also supports SADC on capacity building on smuggling of migrants and trafficking in persons; support to contain the spread of COVID-19, and to mitigate its socio-economic impacts through the IOM's Strategic Preparedness and Response Plan for Southern Africa that was launched in 22 April 2020; assisted voluntary return support; awareness raising through risk communication and community engagement; capacity-building activities for immigration officials, health and non-health frontline officials on Infection Prevention Control (IPC) at Points of Entry (POE) and disease surveillance through mobility flow monitoring tracking and population mobility mapping.
Mr El Nour, who is based in Pretoria, Republic of South Africa, reiterated IOM's commitment to broaden the scope and areas of cooperation with SADC to cover more issues of migration. The two leaders agreed to convene a joint technical meeting to review the MoU and prioritise new areas of cooperation.
---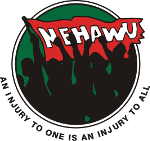 Issued by NEHAWU International Service Centre
For more information, please contact Head Office

Weekly Monitors