Contents
---
WFTU statement on the 2022 NATO summit
Tuesday June 28, 2022
28 Jun 2022
The World Federation of Trade Unions, representing more than 105 million workers from 133 countries on the 5 continents, in view of the 2022 NATO summit on 29-30 June in Madrid, strongly and unequivocally condemns the existence of NATO that constitutes an aggressive war machine in the service of the interests of the imperialist countries of the alliance.
We denounce the provocative lies and official narratives of NATO that the goal of the alliance is to "keep its one billion people safe". The peoples all over the world know that the bloody mission of this imperialist alliance is to maintain, and expand if possible, the existing favourable correlation of forces for the NATO countries in order to safeguard the profits of their monopolies. In the imperialist system which is characterized by uneven interdependencies that govern the relations between all the capitalist states, both the peoples of the member-states of NATO and the other counties' peoples have nothing to expect from the imperialist alliances and wars except death, suffering, poverty, and misery.
We denounce the exclusions, discriminations, embargoes, and sanctions imposed by the US, NATO, and the EU against various countries, as they negatively impact the standard of living of low-income families, workers, poor small farmers, and popular strata in general.
We denounce the hypocritic "concern" of leaders of the USA, EU, and NATO, who shamelessly invoke International Law and the defense of freedom when they speak about the Russian invasion of Ukraine. They speak as if human history began in February 2022, they falsify historical reality, confirming that truth is always one of the first victims of war. NATO invoke peace, self-determination, territorial integrity, international law, democracy, and human rights, while they are the first who wage wars killing "whatever their peace has left over". They are the first who intervene in the internal affairs of other states, change borders, and violate international law and human rights in order to broaden their spheres of influence and serve their geostrategic plans.
Those who are responsible for countless invasions and interventions are primarily responsible for the militarization of international relations, as they insist on maintaining and expanding NATO within the context of a New World Order.
World peace cannot be protected through militarization or through the patronage of all kinds of extreme right-wing nationalist and fascist ideologies. World peace cannot be based on sanctions and economic wars. Those who, as a matter of principle, stand for peace and freedom, fight for the dissolution of NATO and all military coalitions, the dismantling of nuclear weapons, the respect for the independence and sovereignty of all countries, rather than only those which align with, and serve the interests of the United States and their allies.
The World Federation of Trade Unions firmly believes military spending deprives people of the fundamental right to live with dignity and that NATO destabilizing the world and demand unconditional and urgent dissolutions of NATO. The WFTU calls upon the workers all over the world to fight against imperialist wars and the system that creates them, to struggle for world peace and the solidarity among the peoples, to oppose the waste of resources and money for military purposes, to demand the dismantling of nuclear weapons and the immediate dissolution of NATO.
The Secretariat
---
eSwatini declares editor Zweli Dlamini and Swaziland News 'terrorists'
04 Jul 2022
By Margaret Zulu and Anton Harber of the Campaign for Free Expression
04 Jul 2022
Online publication Swaziland News and its editor Zweli Dlamini have been branded as 'terrorist entities' by the Swaziland government. Attorney General Sifiso Khumalo accused the editor of 'threatening to kill police officers' and of instigating 'violence, the burning of public and state property, the seizure of state power and overthrow of lawful government'.
The Kingdom of eSwatini has declared journalist Zweli Martin Dlamini and his South Africa-based online publication, Swaziland News, as "specified entities' who 'knowingly facilitate the commission of terrorist acts".
Prime Minister Cleopas Sipho Dlamini published the order last week in terms of eSwatini's Suppression of Terrorism Act.
He was acting on the recommendation of eSwatini's Attorney General, Sifiso Khumalo, who wrote that editor Zweli Dlamini had "on numerous occasions and at different intervals published articles… that instigate violence, the burning of public and state property, the seizure of state power and overthrow of lawful government".
He is accused of doing this in Swaziland News and on his Facebook page.
"In his latest antics, Zweli Martin Dlamini is threatening killing of police officers" and it was "worth noting that there had been recent shooting of officers by unknown gunmen", Khumalo wrote in his recommendation of action against Dlamini.
'Terrorism'
This fell within the definition of terrorism, he said.
Dlamini moved to South Africa in 2018 when his print newspaper, Swaziland News, was banned under eSwatini's Registration of Books and Newspapers Act. He registered and set up his website in South Africa and has joined the Press Council of SA, a self-regulatory body which monitors media conduct. He says he has a team of five journalists.
Swaziland News is strongly critical of the eSwatini authorities, particularly the security forces, and covers that country's pro-democracy movement extensively.
It recently reported that a police officer had been shot "allegedly by members of the pro-democracy Swaziland International Solidarity Forces that defends civilians from 'bloodthirsty' King Mswati's security forces". This came shortly after another two policemen had been shot.
Dlamini wrote that "the Solidarity Forces had vowed to deal with police officers after Mswati demonstrated reluctance in engaging in a political dialogue and subsequently unleashed the police and soldiers to shoot and kill dozens of civilians merely for demanding democratic reforms".
In an interview this week, he said, "most of the time we report about pro-democracy issues because, at the moment, the people of Swaziland want democracy.
"The people are oppressed and have no access to free media, so we are advocating for justice, freedom of expression, and to empower people to engage those in power. We are covering [the pro-democracy movement] and giving them a voice, as government was suffocating them by denying them access to media."
Dlamini, a former private investigator, said he was also a contributor to the BBC and a part-time writer for the Mail & Guardian. He said he no longer felt safe and had to change his location from time to time.
'They are hunting me'
"The government is on record saying they are hunting me. I am aware that they are watching me."
The eSwatini government was trying to force the international community to distance themselves from him, Dlamini said. They were doing this because he was dependent on grants from the international community.
Dlamini said he was facing two other attempts by the eSwatini authorities to silence him through the South African courts.
King Mswati, he said, went to the high court to seek an order to prevent him from publishing stories about Mswati's government without giving them 10 days to answer questions. Dlamini said he was opposing this as it was not reasonable to wait for 10 days to respond to a breaking news story.
Prince Sicalo, eSwatini's Principal Secretary in the Ministry of Defence, took him to court "saying we were invading his privacy when we alleged he crossed the border to purchase weapons". The court ordered them to undergo mediation, and this had not been completed, Dlamini said.
"They are trying to systematically silence the publication," he said.
After recent incidents in eSwatini — including the disruption of an EU-funded water project undertaken by a company allegedly linked to the King, and the shooting of police — the government said it would not sit back and watch while the country was under siege from terror attacks.
Dlamini said he intended to take the decision on review.
The Campaign for Free Expression (CFE), based in Johannesburg, expressed strong concern at the declaration and called on the government to revoke it.
"This declaration is not only contrary to the Constitution of eSwatini, but also international instruments which eSwatini is party to, such as the Universal Declaration of Human Rights, the International Covenant on Economic, Social and Cultural Rights and the International Covenant on Civil and Political Rights, the AU Protocol on the Media, the 1991 Windhoek Declaration and the 2021 update, Windhoek +30."
CFE said eSwatini ranks a low 131 among 180 countries in Reporters without Borders' global index of press freedom. DM
---
Zainab al-Qolaq tells the story of 22 family members killed in Gaza war through painting.
27 June 2022
BY TAREQ S. HAJJAJ JUNE 27, 2022
Zainab al-Qolaq lost 22 family members during the 2021 war in Gaza. Now, she keeps their memory alive through painting.
Zainab al-Qolaq stands in the middle of her nine paintings, surrounded by people, cameras, and questions from journalists. She moves to the corner, answering in a quick fashion. She seems nervous and insecure, until the moment her father shows up. He puts his arm around her shoulders, and then her eyes stabilize and she gets the power again to proceed.
"It is easy to get rid of the rubble of our home, but the destruction inside my heart, that is impossible to eliminate, I lost 22 members of my family," al-Qolaq, the 22-year-old survivor of the May 2021 war on Gaza, says. She told her story through the nine paintings she displays on the walls of Euro-Med Human Rights Monitor in Gaza, during a two-day exhibition in May.
"I'm 22 years old, I lost 22 people," is the title of the exhibition.
These nine paintings that al-Qolaq produced after the 2021 war look like war trauma. Her home was bombed last war, and she lived beneath the rubble for 12 hours. She wished she had gone unconscious during these hours under the walls and rubble of her home, but she lived every frightening second of them. Eventually, she was rescued only to find that 22 people from her family were gone.
"After I was pulled out, I couldn't open my eyes. I wasn't able to understand all that destruction around me," she said.
"Zainab before the war is a different person than Zainab after the war," she reflects.
At the exhibition, she moves slowly between paintings and describes how she turned lifeless after the war. Her paintings are dark and frightening, like one which shows two lines of people covered in their white grave shrouds, it is a painting of her family. Another one is of a ghost that looks like death wearing a black robe, At first look you maybe think it's the death she experienced, but she explains it is a painting of how she felt after the war.
One of the most touching paintings recreates a photo of her family members. They took the photo during the graduation of her eldest brother. She paints the same photo, but with empty outfits for family members who passed away. She only paints the faces of survivors – one of her brothers and her father.
"Clothes scare me, they remind me of my family. People I lost from my family became empty clothes," she says.
Life before the war
A family of seven members, Zainab, her parents, and her four siblings were happily waiting for her graduation to celebrate. She was a graduate student in the English literature department at the Islamic University of Gaza. Her eldest brother had graduated one year before the war, and she was next. The family was getting ready to celebrate.
"It was a lovely family, we always gathered and preferred to spend our time with the extended family. We are all civilians, and I had no thought that we could be bombed," she says.
Despite the losses Zainab lived through, she has kept on her path to make her family proud. She passed her exams after the war, and successfully graduated.
She wanted to let her family know that she made it. She went to the cemetery to celebrate her graduation among her family. "I could not imagine that a person could celebrate in a cemetery, but I did because all of my family is there."
Her life before the war used to be colorful, and her drawings exuded optimism. "I used to draw the sea, gulls, and paintings full of life," she said.
Before the war, Zainab conducted an interview with a local channel, where she was interviewed as an up-and-coming talented fine artist. Her ambitions and thoughts reflected a young woman who had discovered her talent with art recently in college. She was full of life, and her smile was spontaneous.
Beneath the Rubble
It was 1:00 o'clock in the morning, Zainab was sleeping when her mother woke her up and they both were wondering what was going on.
"The sound was terrifying; walls were cracking, the building was swaying. We could not even think before we all fell down," Zainab recalls the moment her home was bombed.
"Twelve hours of thinking and asking myself, are the rest of my family okay? Who is awake, who has passed away, who is screaming? I was wondering who's still alive. I kept telling myself that I'm still here, they must be trying to survive too," Zainab explains.
A frozen life
Zainab has not moved on from this horrible day. She relives the scenario of losing her family over and over again. Every day at 1:00 am she recalls the last moment that her family used to be together.
"I did not lose one or two of my family, I lost 22 people."
Before the war, Zainab did not hold any family responsibilities, she only dedicated her time to her study and the new talent with art. "But after the war she she became like a mother, holding the responsibility of the rest of the family," her father Shokri Al-Qolaq said.
"She becomes like a mother and a support for me," Shokri says. "Zainab now holds overwhelming responsibilities but we support each other to endure this distress."
Zainab considers herself now to be a surviving witness to the Israeli crimes against her family, and all Palestinians in Gaza. She wants to tell her story to the world.
"I survived to tell the story of Israeli aggression on my neighborhood and family. I tell my story through paintings as it is an international language everyone understands. I hope my story will be shared widely and internationally to show the reality of Israeli aggression against us," she says.
---
Why Israel's 15-year siege on Gaza has failed
04 July 2022
Fifteen years have passed since Israel imposed a total siege on the Gaza Strip, subjecting nearly 2 million Palestinians to one of the longest and cruelest politically motivated blockades in history.
The Israeli government at the time justified its siege as the only way to protect Israel from Palestinian "terrorism and rocket attacks." This remains the official line. However, few Israelis — certainly not in government, the media or even ordinary people — would argue that the country is safer today than it was prior to June 2007.
It is widely understood that Israel imposed the siege as a response to Hamas' takeover of the Strip following a brief and violent confrontation with its main Palestinian political rival Fatah, which still dominates the Palestinian Authority in the West Bank.
However, the isolation of Gaza was planned years before the Hamas-Fatah clash or even Hamas' legislative election victory of January 2006. Late Israeli Prime Minister Ariel Sharon had long been determined to redeploy Israeli forces out of Gaza. What finally culminated in the Israeli disengagement from Gaza in August-September 2005 was proposed by Sharon in 2003, approved by his government in 2004 and finally adopted by the Knesset in February 2005.
This "disengagement" was an Israeli tactic that aimed to move a few thousand illegal Jewish settlers out of Gaza to other illegal settlements in the West Bank, while redeploying the Israeli army from crowded Gazan population centers to the border areas. This was the actual start of the Gaza siege.
The above assertion was even clear to James Wolfensohn, who was in 2005 appointed special envoy for Gaza disengagement by the Quartet on the Middle East. In 2010, he concluded: "Gaza had been effectively sealed off from the outside world since the Israeli disengagement... and the humanitarian and economic consequences for the Palestinian population were profound."
The ultimate motive for the disengagement was not Israel's security or even a desire to starve Gazans as a form of collective punishment. The latter was just one natural outcome of a much more sinister political plot, as communicated by Sharon's own senior adviser at the time, Dov Weisglass. In an interview with Haaretz in October 2004, he put it plainly: "The significance of the disengagement plan is the freezing of the peace process. And when you freeze that process, you prevent the establishment of a Palestinian state and you prevent a discussion on the refugees, the borders and Jerusalem."
Not only was this Israel's reasoning behind the disengagement and subsequent siege on Gaza but, according to the seasoned Israeli politician, it was all done "with a (US) presidential blessing and the ratification of both houses of Congress." The president in question was George W. Bush.
All of this took place before Palestine's legislative elections, Hamas' victory and the Hamas-Fatah clash. The last of these merely served as a convenient justification for what had already been discussed, ratified and implemented.
For Israel, the siege was a political ploy that acquired additional meaning and value as time passed. In response to the accusation that Israel was starving Palestinians in Gaza, Weisglass said in 2006: "The idea is to put the Palestinians on a diet, but not to make them die of hunger."
What was then understood as a facetious, albeit thoughtless, statement turned out to be actual Israeli policy, as indicated in a 2008 report that was made available in 2012. Thanks to the Israeli human rights organization Gisha, the "red lines (for) food consumption in the Gaza Strip," composed by the Israeli Coordinator of Government Activities in the Territories, was made public. It emerged that Israel was calculating the minimum number of calories necessary to keep Gaza's population alive — a number that is "adjusted to culture and experience" in the Strip.
The rest is history. Gaza's suffering is absolute. Some 98 percent of the Strip's water is undrinkable. Hospitals lack essential supplies and lifesaving medications. Movement in and out of the Strip is practically prohibited, with minor exceptions.
Still, Israel has failed miserably in achieving any of its objectives. Tel Aviv hoped that the disengagement would compel the international community to redefine the legal status of its occupation of Gaza. Despite Washington's pressure, however, that never happened. Gaza remains part of the Occupied Palestinian Territories as defined in international law.
Even the September 2007 Israeli designation of Gaza as an "enemy entity" and a "hostile territory" changed little, except that it allowed the Israeli government to declare several devastating wars on the Strip, starting in 2008.
None of these wars have successfully served a long-term Israeli strategy. Instead, Gaza is fighting back on a much larger scale than ever before, frustrating the calculations of Israeli leaders, as has become clear in their befuddled, disturbing language. During one of the deadliest Israeli wars on Gaza in July 2014, right-wing Knesset member Ayelet Shaked wrote on Facebook that the war was "not a war against terror, and not a war against extremists, and not even a war against the Palestinian Authority." Instead, according to Shaked, who a year later became Israel's minister of justice, "it is a war between two people. Who is the enemy? The Palestinian people."
In the final analysis, the governments of Sharon, Ehud Olmert, Benjamin Netanyahu and Naftali Bennett all failed to isolate Gaza from the greater Palestinian body, break the will of the Strip or ensure Israeli security at the expense of Palestinians.
Moreover, Israel has fallen victim to its own hubris. While prolonging the siege will achieve no short or long-term strategic value, lifting it, from Israel's viewpoint, would be tantamount to an admission of defeat and could empower Palestinians in the West Bank to emulate the Gaza model. This lack of certainty further accentuates the political crisis and lack of strategic vision that has defined all Israeli governments for nearly two decades.
Inevitably, Israel's political experiment in Gaza has backfired. The only way out is for the siege to be completely lifted — for good. Reference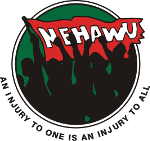 Issued by NEHAWU International Service Centre
For more information, please contact Head Office

Weekly Monitors