Contents
---
CPS in solidarity with China on recent provocation by US regime
5 August 2022
The Communist Party of Swaziland (CPS) stands in solidarity with the people of China and the Communist Party of China on the recent provocation by the United States administration against standing agreements the two countries have on the Taiwan question.
The USA administration has been constantly arming Taiwan severely undermining peace and stability in the region. The USA's ambitions to use Taiwan to contain the People's Republic of China amounts to a threat to the sovereignty of China.
The people of Swaziland feel the impact of the USA's undue support to Taiwan as it directly translates to support for the Mswati autocracy. Swaziland is the only country in Africa which retains diplomatic relations with Taiwan in violation of international law which recognises the One China policy.
The Taiwanese province of China is a form of colonial power in Swaziland by direct political maintenance of the Mswati dictatorship whilst exploiting workers in the textile industry in return.
The visit of the USA's House of Representatives Speaker to Taiwan was uncalled for, but only makes sense to those who survive on war than peace.
The CPS calls for international solidarity with the people of Swaziland for the total removal of the Mswati autocracy, to create a truly independent and sovereign nation, free from the clutches of imperialism.
---
Mswati's government announces petrol prices decrease, TUCOSWA says it doesn't make any difference
3 August 2022
Eswatini Government has announced the petrol price decrease effective Thursday midnight.
In a statement released on Wednesday afternoon, Dorcas Dlamini, the Principal Secretary in the Ministry of Natural Resources and Energy said the petrol price would decrease by sixty(60) cents per-litre.
"The Ministry of Natural Resources and Energy hereby informs the public that the price of petrol (ULP-95) will decrease by 60c/l and Diesel 50 ppm S will decrease by 40c/l. The fuel prices shall come into effect at midnight, Thursday, 4 August, 2022(effect Friday, 5 August, 2022). There will be no change in the current price of illuminating paraffin\",reads the statement in part.
Reached for comments,Bheki Mamba, the TUCOSWA President said the petrol price decrease would not make any difference.
"This is a problem because it doesn\'t change anything from the expenses that are faced by workers.It does not address the fundamental question of life and it doesn\'t mean that transport money and food prices will decrease as well\", he said.
---
Southern Africa: SADC and Rwandan Troops Disperse Mozambique Insurgents - but Displace More Civilians
31 July 2022
The US has stepped up humanitarian aid to a growing number of internally displaced persons in Mozambique's northern Cabo Delgado province amid successful efforts to disperse Isis-affiliated insurgents.
Southern African and Rwandan regional forces which have been fighting in Mozambique's northernmost province of Cabo Delgado since July 2021 are dispersing Isis-affiliated insurgents -- but also driving them further west and south, displacing more civilians and threatening commercial mines.
The number of internally displaced persons has jumped from just under 800,000 to 946,508 since February this year, according to the UN. Of the newly displaced people, 83,983 people had fled attacks in Ancuabe and Chiure districts in June, as the war spread south, leading to a "deteriorating humanitarian situation in southern Cabo Delgado," the UN's Office for the Coordination of Humanitarian Affairs said.
The dispersed insurgents have conducted "more widespread and audacious insurgent attacks," according to Mozambique expert Joseph Hanlon in his latest bulletin.
US aid package
US under-secretary for civilian security, democracy and human rights Uzra Zeya, who visited Mozambique last week, noted that SADC and the Rwandan forces — plus US and European Union military training — had helped to "shift the momentum of the war against the insurgents."
"At the same time though, Isis Mozambique fighters continue to conduct attacks against villages in the north and that demonstrates that they remain a dangerous threat to the life, welfare and security of the people of northern Mozambique who have already suffered tremendously from terrorist violence," she said.
Zeya — who met President Filipe Nyusi and the interior and justice ministers as well as senior officials — said she discovered that the conditions were not yet right for the hundreds of thousands of displaced people, most of them women and children, to return to their homes safely.
This was why she had announced in Maputo a $116-million package of humanitarian assistance to address their needs, including severe food insecurity, healthcare, water, sanitation, hygiene, agriculture and other critical needs.
It would also help to address the effects of Tropical Cyclone Gombe which struck northern Mozambique in March, compounding people's hardship.
Hazards
Zeya's concern about the hazards of displaced people returning home had been underscored when insurgents attacked the village of Mihecane in Ancuabe district on 19 July.
"A group of six residents who fled an earlier attack at the end of June are said to have returned to retrieve some belongings from their homes when they were accosted by insurgents," according to the Cabo Ligado insurgency monitor.
"One managed to escape on a motorbike while the other five are missing, presumed dead."
The report described other recent attacks over a wide area of Cabo Delgado, in Ancuabe, Mocímboa da Praia, and Macomia districts. These included a large assault on the village of Mitope near the northern port town of Mocimboa da Praia on 22 July, when insurgents burnt many houses, looted goods and kidnapped several people.
The Cabo Ligado report expressed concern that Mitope is close to the crucial junction of Awasse, where several displaced families had recently returned home after government assurances that the area was safe.
"This attack demonstrates that the Mozambican Defense and Security Forces (FDS) and Rwanda Defence Force (RDF), which is responsible for security in Palma and Mocímboa da Praia, are still struggling to permanently dislodge insurgents from the district, despite numerous clearing operations," the report said.
The report also said one Lesotho soldier attached to the SADC Mission in Mozambique had been killed and seven injured when their armoured personnel vehicle swerved to avoid a cyclist and rolled near Nangade on July 22.
Pemba concerns
Cabo Ligado noted that the London-based Gemfields company had expressed concern that the southward shift of insurgent attacks could now threaten its subsidiary, the Montepuez Ruby Mining (MRM) company's operations in the southeastern Montepuez district.
The report said the insurgents' southward advance was provoking concerns about the safety of the provincial capital Pemba as well as other commercial operations. It recalled the killings of security guards at the Grafex graphite mining project in Ancuabe on 8 June, which prompted it and another neighbouring mine to shut down operations.
"Although insurgents have generally not targeted commercial interests since the insurgency's inception, with some exceptions (ie mobile phone infrastructure, banks, etc), IS,(Islamic State) taking claim for the Grafex attack, made specific reference to the large number of "crusader companies" operating in Cabo Delgado, inferring these interests would be receiving more attention."
Gas production
Hanlon said although the Rwandan and SADC forces had become more active and effective, their inability to keep Mocimboa da Praia and Palma districts safe was delaying any chance of the French company TotalEnergies returning to its gas production plant at Afungi peninsula, near Palma, "until next year at the earliest".
The insurgents overran Mocimboa da Praia in August 2020 and attacked Palma in March 2021, killing many locals, a South African and a British contractor constructing facilities for the gas plant and causing TotalEnergies to withdraw. Mozambican soldiers later re-entered Palma and Rwandan soldiers recaptured Mocimboa da Praia in August last year.
But, as Hanlon noted, they have not fully restored security in those areas.
Food security and other aid
US under-secretary Zeya told Daily Maverick that apart from the $116-million humanitarian package, the US had earlier in July announced an additional $9.1 million to help refugees, conflict-affected persons and internally displaced persons. This would also support accountability for those responsible for human rights violations.
Some of the aid was intended to help people affected by Russia's war on Ukraine which has created food shortages, driving up prices and creating food insecurity.
Zeya said Mozambique was one of the eight new Feed the Future target countries designated by President Joe Biden in June to address the global food security crisis.
Mozambique was also one of five focus countries and regions in a new US strategy to prevent conflict and promote stability, including law enforcement capacity building and training. This would address some of the underlying drivers of violent extremism.
Asked if she thought these drivers included democracy and human rights deficits, Zeya said; " I do think advancing respect for democracy and human rights in Mozambique is part of the long-term solution to this crisis. And part of the process of building the foundations of a community that is resilient, that is able to achieve its full potential and enjoy economic opportunity so that it's much less vulnerable to these kinds of predations."
Human trafficking
Zeya said she also discussed human trafficking — a core US human rights priority — with the Mozambican government. Human trafficking was a universal problem, also present in the US. In Mozambique, human traffickers were exploiting vulnerable communities such as the hundreds of thousands of people displaced by the insurgency as well as foreigners who had come to Mozambique to seek safety and protection.
She said it was a crime that transcended borders and needed a global approach in which government, businesses and civil society were all working together. The US had encouraged Mozambique "to finalise and vigorously implement a national action plan on human trafficking and also to support reforms that would bring Mozambique's existing anti-trafficking laws into compliance with international standards."
Mozambique was already making "very significant" efforts to combat human trafficking, but remained at Tier 2 in the State Department's 2022 Trafficking in Persons report published this month.
Namibia visit
Zeya later visited Namibia, meeting President Hage Geingob, as well as the justice minister and other officials and handing over a copy of the Trafficking in Persons report to deputy foreign minister Jenelly Matundu.
She commended Namibia for achieving the top Tier 1 ranking in the report for the third consecutive year and noted that it remained the only African Tier 1 country.
Zeya said the US was an active participant in Namibia's National Coordinating Body (NCB) on trafficking in persons, among others. The US had funded the NCB's analysis for Namibia's 2021 to 2026 plan to counter human trafficking.
She said in their meeting she and President Geingob had discussed "joint efforts to advance shared global priorities on transnational crime, economic and racial justice and human rights."
She commended Namibia's achievements in wildlife trafficking, media freedom and overcoming HIV and visited the law enforcement centre in Waterberg to see Namibia's efforts to combat wildlife trafficking which the US was supporting.
This included visiting the Blue Rhino Task Force, a US-supported effort to protect the endangered black rhino which she said had been decimated by poaching.
She told Daily Maverick that helping Namibia counter wildlife trafficking was also a US priority "because there is a nexus with transnational organised crime as well as the issue of livelihoods, of resources and of the bounty of the beautiful nations that are being exploited and destroyed by the scourge." https://www.dailymaverick.co.za/article/2022-07-31-sadc-and-rwandan-troops-disperse-mozambique-insurgents-but-displace-more-civilians/
---
Mozambique News Reports And Clippings (Milton Keynes, UK)
1 August 2022
Rwandan forces have dispersed the insurgents, leading to more widespread and audacious insurgent attacks. Government, Rwandan and SADC forces have become more active and effective. But they are not keeping Mocimboa da Praia and Palma districts safe - delaying any chance of Total resuming work until next year at the earliest. This is a growing guerrilla war, with significant fighting continuing in Macomia and Ancuabe as well as Mocimboa da Praia. Both sides report successful attacks on a base of the other side.
The map above shows that there were 90 incidents in the seven weeks from 1 June to 21 July, almost two incidents a day. War fatalities are now 4,131 (ACLED, 21 July). The number of displaced people who fled their homes due to the war has jumped to 946,508, up by 161,944 since February. Of those, 83,983 people fled attacks in Ancuabe and Chiure districts in June, as the war spread south, leading to a "deteriorating humanitarian situation in southern Cabo Delgado". (OCHA 24, 25 July) Of the displaced, IOM (27 June) reports that 138,231 have been able to return home.
Each side captures a base
On 9 July, insurgents launched a mortar attack on a riot police (UIR, Rapid Intervention Unit) base in Pundanhar, in the west of Palma district on the road to Nangade. About 100 police fled. Islamic State claimed the attack and said that barracks were burned and ammunition, weapons and explosives seized. Two days later insurgents attacked an army base in Mandimba, Nangade capturing arms and ammunition. ( Carta de Moçambique 15 July, citing ACLED and News24)
On 14 July, President Filipe Nyusi announced the captured of a major base in the dense Catupa/Katupa forest in northern Macomia district, about 20 km east of Chai and half way to the coast. The operation had been ongoing since March, involving Rwandan, SADC and Mozambican troops. But there is a sharp disagreement about exactly what happened. Press was taken to the base and the limited amount of material seized "suggests the camp was clear well before the FDS [army] marched in" reports Cabo Ligado. (19 July) President Nyusi said one leader was killed, but Omar Saranga, Armed Forces coordinator of the Northern Operational Theatre, said "Our forces shot down dozens of terrorists." (Lusa 24 July.
Saranga told TVM (24 July) that 4 to 8 insurgents die every day in Cabo Delgado - not in combat but from hunger and disease.
Six men were captured at Catupa and Pinnacle News gave some details. One was a fisherman from Mecufi with navigational skills who kept in touch with his wife while he was with the insurgents and regularly sent her money. Another claimed to have been paid $2500 for participating in the attack on Palma. This underlines the point that many insurgents are there only because it is a paid job, and there are no others.
Mocimboa da Praia and Palma: key roads and islands
Attacks continue in the zones where Rwandan troops should be creating a security zone for the TotalEnergies gas project. Keeping roads safe is essential. But there were attacks on 12 and 22 July on Chitolo and Mitope villages, near the key Awasse junction on the road west of Mocimboa da Praia to Mueda.
About 13,000 people have recently returned to the area around the Awasse junction in the west of Mocimboa da Praia. (Noticias 25 July) But government is discouraging people from returning to Mocimboa da Praia town itself. "People are returning and we think that, perhaps, they are not understanding our messages, appealing for them to wait a little longer", said Joao Saraiva, permanent secretary of the district of Mocimboa da Praia, because insurgents are still active. "We need a little patience on the part of the population", he stressed. (Radio Moçambique 25 July)
On 25 June a minibus going north from Mocimboa to Palma was attacked, killing at least one person.
On 30 June 2022, Rwandan forces shot and killed one civilian and wounded another in Mocimboa da Praia. They were refugees from the resettlement village at Quitunda and were out at night without telling authorities.
In Palma district, on 24 June and 13, 14, 15 July insurgents attacked two offshore islands, Quifuqui and Vumba, destroying houses and taking food. And on 1 July they attacked Olumbi. All are within 30 km of the Afungi Peninsula where Total plans it $20 bn gas base, and well within the security zone Rwandan troops are supposed to create.
Nangade: first attack on town
Nangade district, on the Rovuma River border with Tanzania, has been a hot area, with fighters pushed out of Palma and newly arriving from north of the river. There had been nine incidents in the second half of June, but fewer since then. There was an attack on 7 July in which 18 farmers were kidnapped and then released.
All attacks were on villages outside the centre and on the road linking Palma and Mueda. On 26 July a small group made a foray into Chitunda, an outlying neighbourhood of Nangade town created for people in rural areas displaced by the war. It adjoins the local air strip and is near a Tanzania SAMIM base. Insurgents entered Chitunda firing their weapons. They murdered three people, while many others fled into the bush. They burned 20 houses, and looted. There were just seven people in the insurgent group, only three of whom were armed, and they were no match for SAMIM troops from Tanzania (some reports say Lesotho), who responded, killing two of the raiders and capturing the other five. Although some nervousness remains, residents have returned to Chitunda. ( Mediafax, Carta de Moçambique 28 July)
Macomia: Chai and the main road
The N380 road is the only paved road from Pemba to the gas fields and the 50 km section from Macomia town north to Chai and the Messalo river remains a centre of major fighting. Villages in the zone have been repeatedly attacked. In Nkoe a motorcycle was ambushed and 1 person killed on 21 June. Nkoe was attacked again on 12 July with 100 houses burned. Quito Congresso has an army base and there were serious clashes on 10 June and 13 July. IS claims that after fighting on 13 July insurgents captured weapons. Litandacua, near Chai, was attacked on 26 June with one person killed and a church burned. It was attacked again on 19 July; insurgents were spotted by local people who fled and a joint Mozambican-Rwandan force engaged the insurgents and killed several. ( Cabo Ligado , 19, 26 July) The Catupa forest base captured by government is 20 km east of this zone.
Meluco district is south west of Macomia (and north of Ancuabe) and insurgents have been moving there, attacking Iba, close to Macomia, on 2, 13, and 17 July, as well as the Meluco villages of Macomoa on 13 July, Mitepo on 7 and 12 July and Nsemuco on 10 July.
Ancuabe: The push south and west
In the first two weeks of June there was a major insurgent push south through districts previously unaffected by the war - through Ancuabe, Chiure, Mecufi and across the river into Lurio in Memba district of Nampula. There have been no further attacks in Chiure, Mecufi and Memba.
But in Ancuabi there were 13 attacks in the second half of June and four attacks so far in July. At least a dozen villages were attacked, with at least 25 people killed and houses burned. On 13 July a group of 30 insurgents beheaded two farmers near the village Muaja. One woman who was with the victims was forced to take their heads to the village as a warning; people fled the village.
Montepuez and mining
On 18 July MediaFax reported groups of insurgents in Montepuez district. An attack on an artisanal mine of semi-precious stones on 17 July saw three miners beheaded at Nacaca, 12 km north of Montepuez town.
The Muaja attack was near the main road from Pemba to Montepuez and 30 km from Montepuez Ruby Mining in Namanhumbir, Montepuez, which increased security but has continued to operate. In the next days the defence forces (FDS) told peasants in Muaja and Namanhumbir not to go to their fields. ( MediaFax 21 July) And on 21 July 2022, Mozambican forces launched airstrikes against Islamist militia in Namanhumbir, in the first known action in Montepuez district.
This zone is important for mining. Graphite, a key component of the negative electrode of lithium-ion batteries used in electric vehicles, is produced by several companies. In Ancuabe the Grafex mine was attacked on 8 June and two guards were beheaded. Grafex and neighbouring AMG Graphit Kropfmuhl and Twigg Exploration have suspended operations. (Zitamar 30 June, CIP 13 July) Australia's Syrah Resources operates a graphite mine in Balama district, west of Montepuez, which is one of the world's biggest producers of graphite. China is the main producer, but Syrah gained when Chinese production was hit by Covid-19. Syrah suspended logistic and personnel movements for a week in June, but production has not been affected. But it makes clear that it is not just gas that is affected, and that the expansion of the war to Ancuabe and Montepuez threatens mining.
Montepuez and Ancuabe account for half of all mining concessions in Cabo Delgado, primarily for gemstones (ruby, tourmaline, and garnet) as well as gold, graphite and building stone and sand.
Background and comment
Is crackdown on garimpeiros wise?
A special unit of the border guards (part of the police) has been set up to stop artisanal miners (garimpeiros) in Montepuez. Officially, the aim is to "minimise the presence of illegals coming from various countries, especially the countries of the great lakes," said Bernardino Rafael, national police commander, in Montepuez installing the new unit. Illegal miners "know that Montepuez has rubies, so they come here. After getting the stones, they sell them and finance terrorism," he claimed. ( MediaFax , Lusa 19July)
The issue is rather more complex and contentious. Mozambique has a long history of artisanal mining which supports thousands of miners and a large network and buyers and suppliers. In some areas it provides a major form of employment and income. Rubies were first found by garimpeiros and then General Raimundo Pachinuapa gained a mining concession for the land, forming Montepuez Ruby Mining and expelling the garimpeiros - leading to conflicts which still continue. Pachinuapa has become one of the largest holders of mining concessions in Cabo Delgado, according to a 2012 CIP study. These are now mostly held offshore, through Mauritius companies
Other holders of Cabo Delgado mining concessions include members of the Chipande, Chissano, Talapa and Waty families, all part of the Frelimo political elite.
Under pressure from local big men and private companies who wanted to control the resources, a law passed in 2016 made artisanal mining effectively illegal. "Previous expulsions of these miners helped to swell the ranks of insurgent recruits in 2016", notes Cabo Ligado (26 July).
Will a new crackdown on garimpeiros really protect the mining companies and their patrons, or will it fuel a war now spreading into key mining zones?
Moves south and west follow support lines
In their moves south to Memba and west to Montepuez, it seems the insurgents follow lines where they expect support.
In the move south through Ancuabe, early attacks were in Ntutupue/Intutupue on 9 and 11 June. Eric Morier-Genoud, an expert on religion in Mozambique, points out that the first killing in the current war was in this village in November 2016, a year before the formal start of the war in Mocimboa da Praia on 5 October 2017. He writes that the Quranist al-Shabaab sect had been active first in Balama district, then began in Chiure district in 2013 and spread into neighbouring Ancuabe. It came into confrontation with the Islamic Council of Mozambique (CISLAMO). In Ntutupue there was a clash between two Muslim groups and al-Shabaab members killed one of the other group. Violence continued and sect members were jailed. Thus the insurgents might have expected to find sect members in Ntutupue.
By 11 and 12 June insurgents reached Mazeze and nearby Retene villages in eastern Chiúre district. This was a small zone occupied by Renamo at the end of the 1980s war, and thus likely to still oppose Frelimo. Mazeze had a significant vote for Renamo in 2014 elections.
On 17 and 20 June insurgents were reported to have crossed the Lúrio river into Lúrio town, Memba district, Nampula, collecting new recruits. The northern half of Memba was occupied by Renamo at the end of the 1980s war, and in 2014 the opposition had half the vote in Memba. Again, the insurgents seem to have expect some support. The Secretary of State in Nampula, Mety Gondola, visited the zone on 6 July, and was told by local people of the lack of drinking water, an improved health centre, and a secondary school, and that some local roads were impassable. ( Planalto 7 July) Again, like northeast Cabo Delgado, a forgotten zone that might support insurgents.
In the move west to Montepuez insurgents also hope for support. On the road west, the first stop inside the district is Namanhumbir, which has the MRM ruby mine and many disaffected people who lost land or livelihoods when they were moved off the mine. In the 2014 elections, the vote was equally split between Frelimo and opposition in Namanhumbir, showing more opposition than bin the rest of the district.
Montepuez town had the worst violence after the 1980s war. On 9 November 2000 armed Renamo men attacked the town centre, and 10 people were killed; there was a wave of arrests and on 22 November 2000 nearly 100 of those arrested suffocated to death in an overcrowded jail cell. Electorally Frelimo regularly wins, but a strong pocket of opposition and discontent remains, and thus insurgents look for support.
---
US judge throws out malicious anti-Semitism claim against university professor
29 July 2022
In a victory for the Boycott, Divestment and Sanctions (BDS) campaign against Israel, a US judge has thrown out bogus anti-Semitism claims against a professor at Pittsburgh university in a lawsuit based on the highly controversial International Holocaust Remembrance Alliance (IHRA) definition of anti-Jewish racism.
Pro-Israel groups have been advocating IHRA's adoption for several years saying that the non-binding definition will not stifle free speech on Israel. Critics, however, have consistently warned that not only will the IHRA have a chilling effect on free speech, but it will also give ammunition to radicalised Zionist groups to pursue malicious lawsuits against critics of the Apartheid State.
Robert Ross, who teaches literary arts and social justice studies at Point Park University appears to have been the victim of such spurious and malicious lawsuits which are designed to intimidate critics of Israel as much as to instil fear in anyone advocating for Palestinian rights.
The lawsuit against Ross was filed in 2019 by Channa Newman, a professor at the university. Newman claimed that she was a target of anti-Semitism due to her Zionist beliefs. According to the Electronic Intifada, Newman's lawsuit alleged Ross used his position to foster "a militant version" of the BDS movement and "hateful views against Israel" that "are anti-Semitic."
Newman, who made her case using the US State Department's definition of anti-Semitism which has very similar wording to the IHRA, further alleged that the political views of Ross, and those of his students, led to a hostile work environment for her. As is the case with the IHRA, the State Department definition includes claims that it is anti-Semitic to say Israel's foundation was a "racist endeavour" or to apply "double standards" to Israel by requiring from it "behavior not expected or demanded of any other democratic nation."
In his ruling, the judge asserted that if the court accepted Newman's allegations, it would "invalidate" on its face and on civil rights grounds "an entire academic and public debate" and that it would give Newman "a veto over others engaging in that same debate." The judge further added that Newman was effectively seeking to "compel" the speech and views of others to be consistent with hers.
"I am relieved and thrilled," Ross told the Electronic Intifada. "The judge took the time to articulate why he's not granting this work environment claim and that there's nothing inherently hostile with [advocating for] BDS. In these times, we'll take what we can get. I think it's a victory," he explained.
"The judge, to me, made it clear that there's nothing legally wrong with teaching BDS, participating in BDS, or advocating for it," Ross added. The dismissal of the hostile work environment claims, Ross added, "should be empowering, it should be a green light for other folks to engage in this movement."
---
Morocco, Israel agree to enhance security cooperation
05 August 2022
Israel and Morocco have agreed to enhance bilateral security cooperation, state media said, Anadolu News Agency reports.
Israeli Police Commissioner, Kobi Shabtai, met Morocco's Director General of National Security and Territorial Surveillance, Abdellatif El Hammouchi, in the capital, Rabat, on Thursday, and agreed to promote security cooperation to serve mutual interests, Morocco's official MAP news agency reported on Thursday, quoting an official statement.
Shabtai's 5-day visit to the North African country, which started on Monday, aims to exchange expertise in the field of counter-terrorism and cross-border organised crimes, it added.
The police chief also recently visited the United Arab Emirates (UAE) to promote bilateral security cooperation.
Israeli Army Chief of Staff, Aviv Kochavi, and other top officials have visited Morocco since it normalised relations with Tel Aviv in 2020 after UAE, Bahrain and Sudan, a move decried by Palestinians as a "stab in the back."
---
Israel guards storm Palestinian prisoners' cells
05 August 2022
Israeli prison forces brutally stormed Raymond Prison and violently attacked nearly 100 Palestinian prisoners while allegedly searching for mobile phones, rights sources revealed yesterday.
According to the Palestinian Information Centre, in press statements, head of Prisoners and Ex-Prisoners Affairs Authority Qadri Abu Bakr said that pepper spray and batons were used during the attack.
Lawyers affiliated with the Prisoners and Ex-Prisoners Affairs Authority are preparing to visit the prison and check on the prisoners' health conditions, he added.
Abu Bakr said that lawyers had visited hunger striker Khalil Awawda a few days ago in Ramle Prison, adding that he is in a very critical health situation. Awawda is being held in solitary confinement.
The Prisoners and Ex-Prisoners Authority revealed that Palestinian prisoner Yahya Saeed Jaber died in Israel's Ofer Prison under mysterious circumstances.
---
Venezuela, Cuba, Nicaragua Reject US Interference in Taiwan
3 August 2022
These countries agree in their unrestricted adherence to the "One China" principle and demand respect for the sovereignty of the Chinese people.
Through a statement released on Tuesday, the Venezuelan Foreign Affairs Ministry rejected the acts of interference and meddling carried out by the U.S. House of Representatives Speaker Nancy Pelosi with her visit to Taiwan.
"We alert the international community about these actions, which constitute a violation of the sovereignty and territorial integrity of the Chinese nation and ignore Resolution 2758... wherby the government of the People's Republic China was recognized as the true and only legitimate representative of the Chinese people," Bolivarian Diplomacy said, pointing out that China maintains diplomatic relations with 181 countries on the basis of the "One China" principle.
Venezuela also reaffirmed "its unrestricted adherence to the One China principle and to the recognition of Taiwan as an inalienable part of the Chinese territory," mentioning that the Bolivarian government practices a "Diplomacy of Peace" and adheres to the international law principles related to non-intervention in the other states' internal affairs.
From Nicaragua, President Daniel Ortega's administration issued a statement in defense of China's sovereign rights and "strongly condemned the provocation" that Pelosi's visit to the territory of the People's Republic of China represents.
"Nicaragua's Government of Reconciliation and National Unity, deeply aware of the interfering and interventionist policy of the U.S. imperialism, which has unsuccessfully tried and continues to try to dominate the world, demands respect for the sovereignty, independence, and will of the peoples," the Nicaraguan Foreign Affairs Ministry said.
"Making the complete reunification of the Homeland a reality is the common aspiration and responsibility of all the sons and daughters of the Chinese Nation. The will of its people cannot be challenged and the trend of the times cannot be reversed," it added.
On Tuesday, Cuba's Foreign Relations Ministry also expressed its firm rejection of the actions aimed at harming China's territorial integrity and sovereignty and condemned the U.S. interference in the internal affairs of this nation.
The Cuban diplomats made it clear that the worsening of the situation in the Taiwan Strait is the direct result of the aggressive foreign policy of the United States, a country that undermines international peace and security through the sale of arms to Taiwan.
Cuba also reaffirms its unrestricted attachment to the "One China" principle and to the recognition of Taiwan as an inalienable part of the Chinese territory.
---
Holding Venezuelan Gold in the Bank of England is a Robbery
04 August 2022
British Judge Cockerill's decision prevents the Venezuelan State from accessing 32 tons of gold that have been held in the Bank of England since 2018.
On Wednesday, President Nicolas Maduro called the retention of Venezuelan gold deposited in vaults at the Bank of England an act of piracy and theft.
"The gold inside the Bank of England's vaults belongs to the Central Bank of Venezuela," Maduro said, adding that his administration will continue to protest against abuses, sanctions, and the seizure of Venezuelan assets abroad.
"The world must know that there is no legal certainty in London or in the Bank of England because any country can have its international reserves stolen at any time. There is no respect for the Law!", he stressed.
"We are going to continue fighting. We are not standing idly by. We will continue protesting to recover the country's assets," the Bolivarian leader promised.
On July 29, the London High Court ruled in favor of the Central Bank's Board of Directors illegally appointed by U.S.-backed opposition politician Juan Guaido, who declared himself president of Venezuela in 2019.
Judge Sara Cockerill's decision prevents the Venezuelan State from accessing 32 tons of gold that have been held in the Bank of England since 2018. In justifying her ruling, she ignored the resolutions of the Venezuelan Supreme Court, which declared the appointment of a "parallel board of directors" as an act lacking any basis in the Venezuelan constitution and laws.
The British judge did not decide to grant Guaido's board of directors immediate access to gold reserves valued at over US$1 billion. This possibility must be determined in another hearing.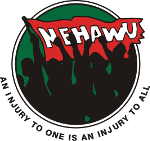 Issued by NEHAWU International Service Centre
For more information, please contact Head Office

Weekly Monitors