NEHAWU Gauteng Mourns The Passing Of Ekurhuleni Former Regional Secretary, Comrade Siphiwo Maduna
Friday November 10, 2023
The National Education, Health and Allied Workers' Union [NEHAWU] in Gauteng Province mourns the passing of Ekurhuleni Former Regional Secretary, Comrade Siphiwo Maduna.
Comrade Maduna met his demise in a hail of bullets from unknown assailants on Wednesday evening. The purpose and circumstances of this callous murder are a subject of investigation by relevant authorities. The shocking news of his passing have left us in anger at the lawlessness that seems to characterize our society today. The union is deeply disturbed that he has lost life under such circumstances.
NEHAWU in Gauteng sends its deepest and sincere condolences to his family, friends and comrades in the Mass Democratic Movement (MDM). Our thoughts and prayers are with his family. We wish them hope in the midst of sorrow, comfort in the midst of pain.
Comrade Maduna was a visionary par excellence, an organic intellectual of the working class who distinguished himself as a defender and fighter for the working class. He was an educator to many workers and leaders of our union. As a union, we have lost a Marxist-Leninist of note who was a backbone of the organization until his passing.
NEHAWU Gauteng dips its banner to this gallant warrior of the working class struggle against capitalist exploitation. Comrade Maduna will be remembered for the role he played in representing workers and as an activist in the broader struggles of the working class.
Lala ngoxolo qhawe!
END
---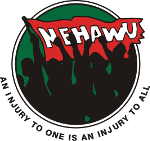 Issued by NEHAWU Gauteng Secretariat
For more information, please contact: Mzikayise Tshontshi (Gauteng Provincial Secretary) at 0636851938 or email: mzikayise@nehawu.org.za or
Thulisile Msimang (Gauteng Provincial Deputy Secretary) at 0721748062 or email: tmsimang@dtps.gov.za
Visit https://www.nehawu.org.za